Michigan Teen Serves Regal Glam in 'Coming to America'- Inspired Gown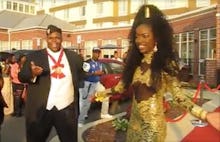 Many young girls dream of slaying in a gorgeous prom gown.
Jawana Young, a Benton Harbor, Michigan, high school student, raised the bar on Saturday. Young showed up to her prom with her date and a friend and recreated the beloved "Queen-to-be" scene from the 1988 movie Coming to America.
She indeed killed it.
Young nailed the gown, the ponytail and the poise.
The teenager dazzled in the golden dress with train made famous by actress Vanessa Bell Calloway's character, Imani Izzi. Young even got the back-length ponytail right. 
In the movie, Imani Izzi walks into the palace in the fictional African country of Zamunda, floating toward her betrothed, Prince Akeem, played by comedic icon Eddie Murphy.
And Young kills the walk-in, too.
A rendition of "She's Your Queen To Be" was the finishing touch.
While Young's date wore a tux — complete with a Prince Akeem fur stole, their friend, Ardale Clark, accompanied them as the prince's personal assistant. Clark even sang the much-parodied entrance song. 
The whole thing was captured on  video by Young's mother and posted to Facebook, according to the Huffington Post. View video clips from Young's prom below, and then watch a clip from the original film to see how stunningly accurate it is.