It's Not Just Hollywood — Everything So White, Say Aziz Ansari, Kerry Washington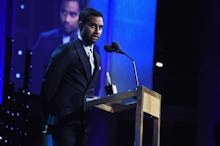 Comedian and actor Aziz Ansari says he's not going to stop trying to make TV more diverse.
Fresh off a Peabody Award win for his Netflix hit Masters of None, Ansari and Scandal star Kerry Washington are sitting down with PBS to discuss diversity in entertainment, Variety reported. The special, part of Variety Studio: Actors on Actors airs June 12 and June 19 on KOCE for viewers in Southern California and will be streamed at Variety.com.
A preview of the program features Ansari and Washington discussing a range of diversity-related topics, from the #OscarsSoWhite controversy to mentoring up-and-coming people of color in show business.
"Our show, it's Indian guy, Asian guy [as the creators], so there's going to be more Indian people, Asian people [featured in the show]," Ansari said of Masters of None, which is set to film a second season.
"We have a diverse group of friends and we didn't even really think about it when we were making the show that 'Oh, this is diverse.' We were just like, 'This feels real,'" he said.
Ansari nailed why representation on his show is important, when he and Masters of None co-creator and writer Alan Yang accepted a Peabody Award for the show Saturday.
Here's an excerpt of his acceptance speech:
[...] I want to thank Netflix and Universal for believing in us, and letting us tell our stories. I think they really seem to get what diversity really is. It's not, 'Hey, let's give this white protagonist a brown friend!' No. It's 'Let's have a show where there's a token white guy.' And that's what it is. 
Ansari and Washington called for a larger conversation about diversity in other industries as well — not just Hollywood.
Ansari noted that after #OscarsSoWhite erupted in January, the New York Times published a chart that shows how "so white" other industries are.
"It came out after #OscarsSoWhite and I loved that they did it because there was all this attention on Hollywood, but it was like, 'No no no, every industry is so white,'" Washington said.
 Ansari said he feels a sense of responsibility to help people of color break into Hollywood.
"One thing I've thought about in going from season one to season two is now we're in a position to help other people," Ansari said of Masters of None. "In season two I've been like I gotta find — I gotta do just even more — and find even more actors of color and writers of color."
Watch a preview of Ansari and Washington's conversation here.