Khloé Kardashian Opens Up About the Struggles of Her Camel Toe — Which She Named Camille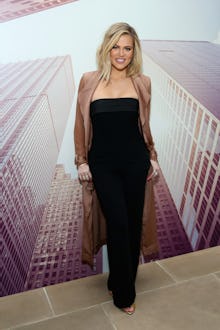 Any true Khloé Kardashian fan — or at least the ones that signed up for her website's free trial and maybe forgot to cancel it — knows that the 31-year-old named her camel toe, aka her "puffy" vulva, Camille. But, in her latest post on her website Wednesday, she revealed just how this nickname came to be. 
"I remember I once wore yellow skinny jeans and a Kardashian Kollection tribal shirt — and Camille was out," she wrote. "I had to call it out on Twitter because the paparazzi pics were so bad. That's how she got her name!"
Kardashian has been been outspoken about this topic, discussing it on her Instagram and on Keeping Up With The Kardashians, in addition to her website posts. Last January, she posted a photo in white jeans with the caption, "oh Camille the camel is trying to say hi!" 
More recently in March she told Nylon that her "puss had lost weight," so her camel toe wasn't as big of an issue anymore. Later that month, she dedicated an entire blog post to Camille with the post "Camille The Camel's Top 9 Fashion Moments." Clearly, the woman has an obsession with her camel toe.
"There's no hiding it: I have a puffy pussy, people," she wrote at the time. "Ain't no shame in the camel toe game, LOL. Move over #FreeTheNipple, it's all about #FreeTheCamelToe!" 
Read more: Khloé Kardashian Summarizes the Nightmare of Shopping as a Chubby Kid
In addition to her camel toe's back story, Kardashian detailed a young Khloe's troubling experience with stylists and why one session in particular with her current stylist Monica Rose in 2007 stood out above the rest. 
"Even now, I'm so thankful for [Monica's] kindness," she wrote, "When I was styled by other people, no one ever paid attention to me or cared about me. Kim and Kourtney would get racks and racks of options and I would get five dresses in a size 14, which wasn't even my size." 
Thankfully, her sisters had her back and would refuse to do shoots until stylists brought her more dresses. "I would cry because I felt so shitty," she said. 
Social media has become a platform for celebrities to discuss topics that once might've been considered taboo. Kardashian herself has used her website and social sites to discuss a myriad of topics such as being called the fat sister, shopping as a chubby kid, her revenge body and sometimes, more often than not, her vagina.
And she's not the only celeb dabbling in TMI proclamations. From postpartum bleeding to perineal irrigation, Chrissy Teigen has been using Twitter and Snapchat to discuss topics that simply aren't spoken about enough.
You might as well go ahead and name your own camel toe, because as celebrities like Kardashian and Teigen demonstrate, women's bodies should be embraced and spoken about — not something to be shamed for.