Why Is Everyone Freaking Out About This Zendaya Magazine Cover?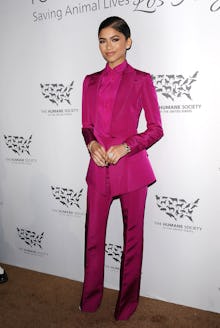 Zendaya is masturbating on the cover of Wonderland magazine! 
This according to many who have taken issue with the actress-singer's suggestive pose on the cover of the mag's summer issue.
On Wednesday, the London-based publication revealed the 19-year-old as one of its next cover stars. But with one hand on her crotch and a look of intense pleasure, it wasn't long before people began to point out what seems to be the Disney Channel actress engaging in Hailee Steinfeld's favorite practice.
Zendaya was quick to address commenters writing on Instagram, "I see what y'all are saying by the hand placement lmao but that was not intentional you little pervs." 
But that didn't stop users from rattling off their thoughts. "Looks like you where watching porn, do you girl," one commented. "It cause it looks like you playin with yourself all the way" said another.
And then there is this lovely tweet:
With newstands filled with half naked covers (like this and this), its hardly uncommon to see celebrities in suggestive poses (remember that time Miley Cyrus posed topless with her orally pleasuring a nightstick?). 
This isn't People Magazine, folks, it's a high-fashion glossy intended to look more like a collectable piece of art than simply something to parse through while waiting in a doctor's office. Plus, fashion has a long — and celebrated — history of provocative imagery.
Read more: Zendaya Fires Back at Comedian Julie Klausner for Skinny-Shaming Her on Twitter
Regardless, trolls are going to talk and this user summed up the cover pun-tastically: "She's trying to find her wonderland lmao."