Baylor Demotes President Ken Starr, Fires Football Coach Amid Sexual Assault Scandal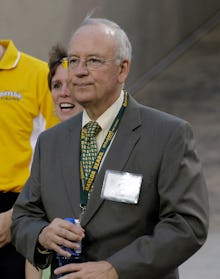 Baylor University fired its head football coach and demoted its president following the release of a scathing report that criticizes officials of the Texas school for improper handling of sexual assault cases against members of the football team. The report, commissioned by the college Board of Regents in 2015, details numerous compliance issues under Title IX of the Violence Against Women Reauthorization Act.
The 2013 federal law changed the way rape allegations are handled at institutions of higher learning. But recent high-profile cases at schools across the nation have shown how hard it's been to change rape culture, in which victims often find justice is fleeting when their assailants are pampered college athletes.
Art Briles, who has led the Baylor Bears for the past eight seasons and amassed millions of dollars in revenue for the institution, has been dismissed, according to the New York Times and a statement released by the university. Baylor President Kenneth Starr, who famously served as independent counsel during President Bill Clinton's impeachment over lying about his extramarital affairs in 1998, was stripped of his title. He will remain as university chancellor.
Here are the main findings from a report compiled by Pepper Hamilton, LLP, the firm hired to carry out an external investigation of Baylor's response to sexual assault cases:
— The University's student conduct processes were wholly inadequate to consistently provide a prompt and equitable response under Title IX; Baylor failed to consistently support complainants through the provision of interim measures; and in some cases, the University failed to take action to identify and eliminate a potential hostile environment, prevent its recurrence or address its effects.
"We were horrified by the extent of these acts of sexual violence on our campus," the chairman of the Board of Regents said the statement released Thursday. "This investigation revealed the University's mishandling of reports in what should have been a supportive, responsive and caring environment for students. The depth to which these acts occurred shocked and outraged us."
The vast majority of sexual assault on campuses is experienced by women. Over 90% of unwanted sexual advances and rape incidents go unreported, according to the National Sexual Violence Resource Center. A 2015 study by the Association of American Universities found that 23% of female college students said they experienced some form of unwanted sexual contact. Nearly 11% of those women said those assaults included forced penetration or oral sex.
Baylor regents said the independent report serves as a wake-up call in their efforts to make the campus a safe place for young women.
"Our students and their families deserve more, and we have committed our full attention to improving our processes, establishing accountability and ensuring appropriate actions are taken to support former, current and future students," Richard Willis, chairman of the Board of Regents, said in a statement.
UPDATED: May 31, 2016 at 12:30 pm EDT — Baylor University's athletic director, Ian McCaw, resigned his position Monday night. In a statement, McCaw said he was leaving to help the "Baylor Nation" heal from the findings of an external investigation that show officials were slow to respond to allegations of sexual assault and blamed victims when members of the football team were accused of rape.
His resignation following the demotion of university President Kenneth Starr and the termination of head football coach Art Biles. McCaw released a statement about his decision:
"After much reflection and prayer, I have decided that a change in athletics department leadership is in Baylor University's best interest in order to promote the unity, healing and restoration that must occur in order to move forward. I have always sought to put the University's needs ahead of my own. My time at Baylor has been an incredible journey filled with some of the most remarkable people I have ever known. I am grateful to Baylor Nation for its support and dedication, and to all who have done so much to advance the athletics program."
Baylor officials also announced Monday that they would replace Biles with Jim Grobe, who was the Associated Press'  "Coach of the Year" in 2006. Grobe will serve as acting head coach of the Baylor Bears.