This Viral Facebook Rant Shows the Disconcerting Way Sizing Has Shrunk In Two Years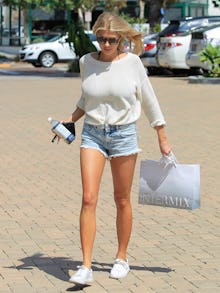 Although you might've fit into size 4 American Eagle Outfitters shorts two years ago, chances are a current size 4 pair won't even make it past your knees. 
In a post on Facebook — which has since been shared over 70,000 times — one woman showed how a current size 10 has the exact same waistline and width as a size 4 pair she bought two years back. 
Basically, what the company now considers a size 4 is very, very small. A size 10 appears to be what was once a size 4, so a size 4 is what was once ... a size -2?
"The only difference is the year I bought them, length and slightly different style," Missy Rogers wrote. 
When she went to purchase a new pair of shorts — in what she had always believed to be her size — she couldn't get the pair past her knees and had to size up to a ten. "Having to go up to a size 10 made me question just how much weight I gained, but once I brought the shorts home and compared, I realized that size is literally just a number," she wrote. 
Read more: Aerie Ditched Photoshopping Two Years Ago, And Sales Are Way, Way Up
Her point — which she clarified in a second Facebook post — is not to call out AEO, but instead to remind younger girls that a number is simply just that: a number. 
"I do worry about the message younger girls have with media promoting 'the perfect skinny body,'" she said. "They have been convinced that the smaller [the] size you are, the more beautiful you are. This is not the case, and I think it's important to show that clothing size should not define your beauty. If a size 10 is what a size 4 [used] to be, what message are you implying to younger girls?"
And she's not wrong. With digitally altered photos of celebrities on magazine covers and retouched Instagram photos, in addition to the antiquated but pervasive belief that thinness equates to beauty, women are striving for something that isn't easily attained — which is made worse by brands' clothing quite literally shrinking over time.
This topic clearly resonated with thousands — some commenting words of encouragement like "Thank you for putting this out there, you're so right" and "really needed this, thanks for laying down some truths." 
Chad Kessler, AEO's global brand president, responded with the following statement in an email to Mic: 
"We agree fully with Missy that women are so much more than numbers, which is why we are so strongly committed to body positivity. Like every retailer, we strive for consistency and clarity to help our customers make decisions. We've reached out to Missy to get her feedback on her shopping experience and look forward to engaging in a discussion around this important issue." 
As Rogers said, "If I decided to stop shopping at a store that had inconsistent sizing, I would most likely have to start making my own." It's not just a AEO problem as it is a societal one. As the body positive movement is quickly expanding — with plus size model Ashley Graham on the cover of Maxim and Sports Illustrated, along with size-inclusive campaigns like ModCloth's and Aerie's (yes, AEO's offshoot lingerie brand) — it's size-discrepancy conversations like this one that remind us how important the issue is.   
"A size 2 is never going to be the same in every place or mean the same to every person. A specific size is not a number to describe your beauty, health and body. It is literally just a number printed on a tag," says Rogers.