In 10 Words, This High School Senior Nails How African Students Feel at Graduation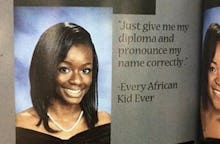 Agboke Toluwalope is fed up with people mispronouncing her name.
She let her fellow high school graduates, her teachers and administrators know in the best way possible. A snapshot of Toluwalope's yearbook photo circulated on Reddit this week:
"Just give me my diploma and pronounce my name correctly."
Toluwalope is a Nigerian name — and its meaning is very spiritual.
The surname is common among the Yoruba people. It means "God is worthy to be praised," according to several Nigerian name encyclopedias.
So it's no wonder why an African student might take offense to people being lazy about learning how to say Toluwalope.
Mispronouncing racial minority names is just one of many microaggressions against people of color — and people of African descent are particularly tired of it.
When "foreign" or "ghetto" names are mispronounced out of ignorance or spite, it reinforces white supremacist notions that "white Anglo Saxon protestant" names hold a distinction over names from nonwhite cultures.
But many Africans, like Toluwalope, are striking back. Led by comedian Loyiso Gola, black South Africans in January declared 2016 as "#TheYearWeMispronounceBack." It inspired several hilarious conversations on Twitter.
Check out more responses here.