Brooklyn Decker Breaks Down Just How Photoshopped Her Sports Illustrated Cover Really Was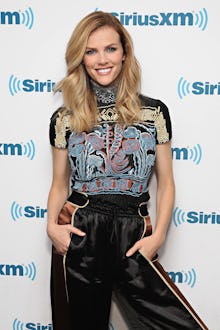 Brooklyn Decker rose to fame with a steamy bikini shot on the cover of Sports Illustrated in 2010. But, as it turns out, the very photos that helped launch her acting career were actually the result of good 'ole Photoshop. And now, nearly six years later, she's copping to the alteration.
"This house was not there ... See this ab? That's like a nice shadow ... that's like the magic of lighting. It's a lot of smoke and mirrors," the Grace and Frankie actress said on The Late Show with Stephen Colbert on Tuesday. 
When Colbert asked the 29-year-old exactly what it takes to be a model, she responded, "You become a model once you go through hair and makeup and Photoshop." 
But, there's a plot twist. Decker wasn't 100% correct, as Sports Illustrated took to its website to prove that the house actually was there. 
"Brooklyn noted that an excellent crew played their part in enhancing her already flawless features," the website reads. "There's only one small thing our girl got wrong ... While Brooklyn mistakenly remembered the house being Photoshopped in later, video footage from the super steamy shoot reveals it was actually there all along." 
The airbrushing and lighting aspect, on the other hand, is fairly accurate. 
From Lena Dunham to Kerry Washington to Meghan Trainor, Decker is hardly the only celebrity speaking out about the prevalence of photo retouching in media today, from magazine spreads to music videos. 
But Decker wasn't calling out SI for what its editors did. She took to Twitter to clarify she wanted to give all those people that "transformed" her into a cover the credit they deserved. 
We all know digital manipulation is happening. Even celebrities like Khloé Kardashian have imperfections that they might want to fix. But there is an inundation of these altered images being used by clothing retailers, on runways to sell clothing and on magazine covers — most of which only feature thin body types. 
That's exactly why people lately have been celebrating campaigns that are size inclusive or that've committed to anti-digital alteration policies, like ones from Aerie, ModCloth and Target. 
As much as everyone loves to see Decker's smokin' hot body on the cover of publications — retouched or not — her statements highlight that the seemingly enviable might be entirely fabricated. Because after all, many of these celebrities have numerous makeup artists and stylists — or simply have mastered the right camera angles.