In Epic Fail, Pennsylvania High School Prints Yearbooks with Hitler and ISIS Quotes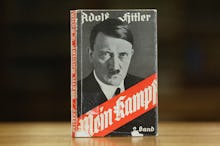 Everyone needs a good editor — especially one that recognizes the names of mass murderers. Students at a Pennsylvania school were apparently without one this year, as their 2016 yearbook was published with quotes from Adolf Hitler, Joseph Stalin and an Islamic State leader that accompanied senior portraits.
The Quaker Valley School District has apologized and is offering refunds and stickers to high school students who wish to cover up the quotes, the Associated Press reported.
"This is a regrettable mistake, as the school district would never knowingly condone this messaging in a school-sponsored publication," the district said in a statement reported by the AP. "We are well aware of the emotions this has conjured in many of our students and their families, and for that we are sorry."
Quaker Valley High School said it thoroughly reviewed the content of the quotes that seniors submitted. However, officials admitted that they failed majorly in checking the attributions, which appear millimeters away from the quotes.
Their failure allowed senior Joe Sutton to include the Stalin quote and a quotation from reputed Islamic State leader Abu Bakr al-Baghdadi. A separate student quoted Hitler.
Let's do some quick math: Hitler and his collaborators murdered six million Jews during the genocide that led up to World War II; Stalin massacred a reported 20 million people, during his rule over the former Soviet Union; and al-Baghdadi has led civil wars in Syria and Iraq, that have so far killed an estimated 418,800 civilians.
That's roughly 26.5 million victims. Quoting the monsters who ordered them killed was all in the name of a joke, Sutton told WPXI-TV.
According to a Quaker Valley School District spokeswoman, yearbook prices range from $69 to more than $100, if students chose to have their names engraved on the cover. Quaker Valley High School enrolls more than 630 students and slightly more than half of them purchased the 2016 edition.
A refund for each student could cost the district at least $24,840 — not to mention the cost of the stickers to cover up the offensive quotes. The district didn't say whether students or anyone else will face punishment for the quotes, the AP reported.
The real question here is, who's teaching Quaker Valley High School's social studies classes?