Kendall Jenner Reveals Her Sneaky Strategy for Stealing Her Sister's Clothes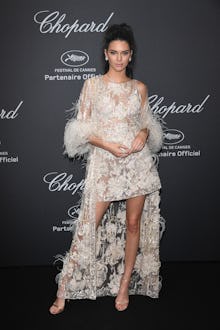 Kendall Jenner's Los Angeles condo might come with a closet filled with custom designer pieces and accessories, but that wasn't always the case. A few years back, when Kendall and younger sister Kylie Jenner were living with their parents (and running around dancing on stripper poles), the two were often stealing each other's clothing. 
"I always used to steal clothes from Kylie when she was out of the house," Kendall wrote on her website. "I'd wait until she'd go downstairs, and then I'd strike!"
She might've had sneak tricks up her sleeve, but the 20-year-old said that on the instances when she did get caught, she enjoyed how pissed off Kylie would get. 
"She was the easiest target because we were the exact same size," Kendall wrote. "Also because, out of all my siblings, it made her the most upset!" (Don't act like you don't also love riling up your siblings.) 
Read more: Kim Kardashian West Used Tea Bags to DIY Dye Her Cannes Red Carpet Dress
Kylie, on the other hand, need to works on her robbery skills. "Ky was actually the worst at taking clothes from me. I ALWAYS knew," Kendall explained. "The hangers would be messed up and she'd just leave messy evidence. I was the silent thief — very meticulous and neat, lol."
Even though the two no longer live together, in November Kylie revealed that they still argue over clothing. 
"I let her borrow whatever she wants," Kylie told PeopleStyle. "She always comes through and is like 'I need an outfit please,' and I'll let her borrow whatever. And then I go over there, and I'm like 'Kendall, I need a pair of sweats to go home,' and she'll give me the most uncomfortable old underwear, the worst sweats you've ever seen and anything that's so bad and old and small." 
From discussing Photoshop to nude clothing, the relatable Kardashian/Jenner ladies continue to give fans exclusive access to their lives (sarcastic emphasis on exclusive, since you need to pay to visit their websites) .
And as it turns out, their family is just like yours. (If you add a reality show and a few hundred million dollars, natch.)