This Was the School Year When Racism on College Campuses Finally Had Consequences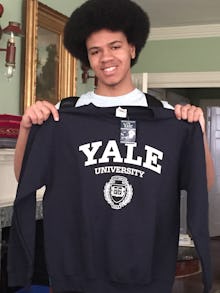 Commencement is underway at colleges around the U.S., capping a tumultuous year in which campus race relations took center stage. The 2015-2016 academic year saw students rise up en masse and demand institutional changes to address a climate of racial hostility, intolerance and discrimination.
Following student-led protests, sit-ins and other demonstrations that drew national news coverage in the fall, university presidents and deans of colleges tendered their resignations. Campuses removed and renamed statues and buildings with Confederate and slavery ties. Here are several developments on college campuses in the 2015-2016 school year:
Yale faculty members resign
A pair of faculty members at Yale University in New Haven, Connecticut, announced that they would resign their leadership positions at Silliman College, where they mentored undergrads. Nicholas Christakis, a tenured professor, and his wife, Erika, announced their decision in a tweet Wednesday.
"My wife, Erika, and I have devoted our professional lives to advocating for the well-being of all young people," Christakis said in a message posted with the tweet. "We have decided that it is time to return full-time to our respective fields of public health and early childhood education."
The couple had been at the center of student protests over an email Erika sent, in which she cited free speech in her defense of students' choice to wear Halloween costumes that feature blackface, turbans and Native American headdresses, according to the New York Times.
Erika's was a response to an email sent to students in late October by the Yale's Intercultural Affairs Committee. The message advised students to avoid wearing "culturally unaware and insensitive" costumes. Students of color and campus organizations pointed to Erika's email defending the costumes, along with her husband's response to student protesters, as evidence of a longstanding climate of racial intolerance at Yale.
University of Missouri president steps down
In October, student activist group Concerned Student 1950 launched days of protests and a hunger strike over pervasive racism that they said went unaddressed by administrators. Incidents included a swastika drawn on a dormitory wall and racial slurs hurled at black students while they were rehearsing for a homecoming event.
Students asked for the immediate resignation of the university's president. But change didn't come until the school's football team announced they would not take the field until the top official resigned.
Acknowledging that he did not act swiftly enough to address the students' concerns, university President Timothy Wolfe announced Nov. 9 that we would step down. The school also hired a chief diversity officer, who is charged with overhauling protocols for handling allegations of racism and discrimination on campus, among other responsibilities.
Ithaca College president to step down
Students at Ithaca College in Ithaca, New York, were outraged by racially insensitive remarks made about a black alumna during an event on campus. Similar to concerns at Yale, the protesting Ithaca students said the incident was indicative of campus racial tensions that administrators had ignored.
In January, college President Tom Rochon announced he would retire in 2017. In a statement, he cited the student protests as an influence in his decision.
Georgetown University acknowledges slavery ties
Georgetown University in Washington, D.C., announced in November that it would rename buildings that bared the names of former school presidents who sold 272 slaves to pay off campus debt in the 1830s. 
Mulledy Hall, a student dormitory, and McSherry Hall, a mediation center, will now be called Freedom Hall and Remembrance Hall respectively. Georgetown President John DeGioia said the name changes were recommended by his Working Group on Slavery, Memory and Reconciliation, which included 16 administrators, faculty and students who had been concerned about the university's slavery ties.
Claremont McKenna College president leaves amid protests
After a dean at the Los Angeles-area private liberal arts college suggested in an email to a Latina student that she didn't "fit our CMC mold," protests erupted there around the same time as the Yale and Mizzou incidents. At Claremont McKenna College, students of color had already been upset about an earlier incident involving white students throwing a racially insensitive Mexican-themed party.
Dean Mary Spellman stepped down in November following campus protests and hunger strikes by two students, according to the Los Angeles Times.
University of Texas, Austin relocates offensive statues
In August, the University of Texas at Austin took down statues of Jefferson Davis, who was president of the Confederacy, and U.S. President Woodrow Wilson, who favored racial segregation in public employment. The university's student government had voted in March to remove the statues, which will be relocated to a less prominent location on campus.
After June's race-motivated massacre at Mother Emanuel AME Church in Charleston, South Carolina, the Davis statue became a target of vandals who had criticized it as a racist symbol. Students also prevailed over a lawsuit brought by the Sons of Confederate Veterans in August to stop the university from moving the Davis statue.