'I Am Cait' Removed From Nigerian Cable Network After Customers Revolt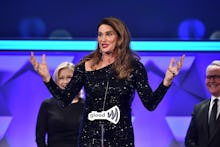 MultiChoice may be the name of one of Africa's biggest satellite television providers, but its customers are running out of choices when it comes to programming.
Conservative Nigerian subscribers were reportedly so fed up with I Am Cait's portrayal of transgender identity that they complained loudly enough to their country's broadcast regulator, which then pulled the show from its listings in countries across the continent. The move is the latest in a series of high-profile instances in which LGBT identity has become a battleground in African politics. 
Bisi Alimi, a Nigerian-born LGBT activist who is currently based in the United Kingdom, said in a phone interview on Tuesday that the company's decision is just one example of the daily obstacles facing LGBT Nigerians. "This just shows how close-minded and ignorant some Nigerians are," Alimi said. "If they can be this aggressive towards a TV show, imagine how aggressive they are toward LGBT people who they see everyday."
This is not the first time Multichoice has canceled programming due to public opinion. Last year, the same company bowed to similar anti-trans pressure and stopped airing I Am Jazz, a reality TV show that follows transgender teen Jazz Jennings.
In a statement, the company acknowledged its decision to pull the show. "MultiChoice recognizes the importance of respecting the views of a number of its customers and all regulatory environments within which its service operates," it read, according to a report from Vanguard. "After careful consideration, MultiChoice would like to inform its valued subscribers that the show will no longer air on the channel across our platforms."
Olajide Obi, an official with MultiChoice, also encouraged disgruntled viewers in a statement to use their parental controls if they're unsatisfied with the company's content. "The company also reminds their subscribers that Dstv and Gotv decoders are encrypted with the parental control feature that empowers parents with ultimate control over what young viewers can watch," Obi said, according to Vanguard, encouraging parents to "... make use of this feature as much as possible to ensure that their children only watch what their parents deem appropriate."
Some customers don't think parental controls are enough, according to these comments on the story from Nigerian-based media:
Building on a history of homophobia: But as several African countries debate LGBT rights, the decision to pull I Am Cait is hugely symbolic — and loaded with political repercussions. In a 2015 interview with GLAAD, Alimi talked about Nigeria's potential role in changing attitudes toward LGBT communities in light of a 2014 bill criminalizing homosexuality that was signed into law by Nigerian President Goodluck Jonathan. 
Support for the law, known as Same Sex Marriage Prohibition Act, has slowly declined in recent years. In 2010, 96% of Nigerians polled supported the act. In 2015, 87% did, according to reports.
"If Nigeria, at a population of 170 million people, the most populous black nation in the world, the biggest economy on the continent of Africa, one of the African's biggest superpowers — intent of military, intent of foreign policy ... if a country like that can be more accepting of social issues ... you can imagine what impact that will have on the continent," Alimi said, according to Pink News. 
It's precisely because of the potential impact of Nigeria across the continent that social conservatives in the country have doubled down and targeted shows like I Am Cait, according to observers. In 2010, a survey found that 74 million people in Nigeria watched at least one show on U.S. evangelical Pat Robertson's Christian Broadcasting Network. 
Massachusetts anti-LGBT group MassResistance, a so-called "pro-family" organization, praised Nigeria's Same Sex Marriage Prohibition Act. "In many ways, the Africans are feeling the brunt of the world-wide homosexual activist movement even more than the United States," the group said in a statement in 2013, while the bill was still being debated by Nigerian lawmakers. "They are dealing with the huge spread of AIDS. But also, the breakdown in society caused by the homosexual movement seems to bring more general social destruction in African cultures than in the West. And nation after nation has had enough." 
The law carves out 10-year prison sentences for any public show of same-sex affection deemed homosexual.
But there's a side of the debate that's largely being ignored: the role of evangelical Americans who've exported their fight against homosexuality.
Much of that conservative backlash is funded by U.S. evangelicals, who have backed anti-LGBT legislation in countries like Uganda, Zimbabwe and Kenya, according to a report from Nathalie Baptise in Foreign Policy in Focus. "As the gay rights movement has gained traction in the United States, the more virulently homophobic ideologies of the religious right have been pushed further out of the mainstream and into fringe territory," Baptiste wrote in 2014. "But as their influence has waned at home, right-wing evangelists from the United States have been flexing their sanctimonious muscles influencing policymakers in Africa."
Not everyone is happy about the decision yank I Am Cait from African viewiers' televisions. More than 200 people have signed a Change.org petition, started by Luiz DeBarros of Johannesburg, South Africa, to overturn the ban. "Instead of enlightening its viewers, MultiChoice is allowing bigotry and prejudice to flourish, supporting anti-democratic values and putting LGBT Africans deeper into the closet," DeBarros wrote in the petition.
Still, some see a sliver of hope in the backlash toward the show. "I believe that when change is happening, a tiny minority who have the loudest voices will always push against it," Alimi, the Nigerian LGBT activist, told Mic. "It doesn't mean that change will not happen."
Alimi continued: "What we're seeing is their own apprehension and fear of the change that's already happening. They might have the power now, but they won't have the power for long."