Alicia Keys Sums Up the Way Women Are "Brainwashed" Into Constantly Feeling Judged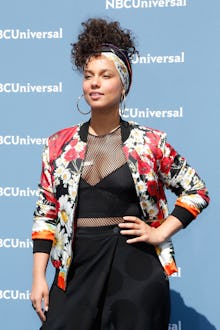 Alicia Keys arrived on the set for her new single's cover shoot in a sweatshirt, headscarf and a dewy-skin, no-makeup look after coming straight from the gym. The photographer quickly insisted that she take photos of Keys in that exact raw state.
The result was the image below for "In Common" — and also 'the strongest, most empowered, most free, and most honestly beautiful' the Grammy-winning artist said she has ever felt.
"Every time I left the house, I would be worried if I didn't put on makeup," she wrote in a Lenny Letter essay published Tuesday. "... These were the insecure, superficial, but honest thoughts I was thinking. And all of it, one way or another, was based too much on what other people thought of me."
She knew this was one of the things she wanted to address with her sixth studio album (due out later this summer), she wrote.
"Before I started my new album, I wrote a list of all the things that I was sick of," the 35-year-old explained. "And one was how much women are brainwashed into feeling like we have to be skinny, or sexy, or desirable, or perfect."
She continued:
One of the many things I was tired of was the constant judgment of women. The constant stereotyping through every medium that makes us feel like being a normal size is not normal, and heaven forbid if you're plus-size. Or the constant message that being sexy means being naked. All of it is so frustrating and so freakin' impossible.
Keys said that throughout her career, she often felt pressured to alter her appearance in order to be accepted by those in the entertainment industry.  
"I remember when I first started to be in the public eye," she wrote. "Oh my gawd! Everyone had something to say. 'She's so hard, she acts like a boy, she must be gay, she should be more feminine!' ... I started, more than ever, to become a chameleon. Never fully being who I was."
That frustration, stemming from industry-induced self-censorship that caused her to lose sight of who she was, is evident in the lyrics of one of her new songs.
In one of her new songs, "When a Girl Can't Be Herself," she sings:
In the morning from the minute that I wake up/ What if I don't want to put on all that makeup/ Who says I must conceal what I'm made of/ Maybe all this Maybelline is covering my self-esteem.
Keys' new cover photo, along with other makeup- and alteration-free celebrity photos — like Daisy Ridley's and Demi Lovato's — can remind fans that a lot of what is published on the internet is the product of makeup artists' talent, airbrushing and filters. 
Studies have shown that the seemingly perfect celebrity photos — ones that help create unattainable beauty standards —  that inundate newsstands and social media can hurt women's self-esteem by creating the perception that they must look a certain way in order to be what society deems beautiful. 
Read more: Daisy Ridley Just Got Real About the "Secret" Behind Her No-Makeup Selfies
Keys says that many posted #nomakeup selfies in response to "In Common" and she "hopes to God it's a revolution" — one that will help other people realized they don't need to hide or change themselves for someone else's approval. 
"I don't want to cover up anymore," she wrote. "Not my face, not my mind, not my soul, not my thoughts, not my dreams, not my struggles, not my emotional growth. Nothing."