Woman Allegedly Booted From Plane Because Her Shorts Were Deemed "Inappropriate"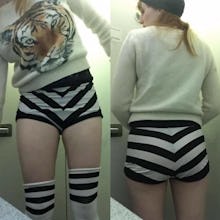 Apparently there is more to worry about when flying than just making sure your liquids are the correct size or that your carry-on fits safely in the overhead bin. Your outfit might also have to pass an inspection by none other than the flight's pilot. 
Such was the case for burlesque dancer Maggie McMuffin, who was dressed in striped shorts, a sweater and high socks when she was asked to change before being allowed to board a JetBlue flight from Boston to Seattle.  
"[A gate agent said what] I was wearing was not appropriate and the flight crew had discussed it and the pilot had decided that I needed to put something else on or I would not be allowed to board the flight," McMuffin told KIRO7 in Seattle.
According to McMuffin's friend Molly McIsaac, who posted on Facebook about the incident, McMuffin had to go to another terminal to buy a pair of shorts for "proper coverage." She claims that JetBlue apologized and refunded McMuffin for these shorts and provided less than $200 in credit, but did not offer any explanation or an apology from the pilot. 
Mic reached out to the airline for more information, but JetBlue issued the following statement to KIRO7: 
"The gate and on board crew discussed the customer's clothing and determined that the burlesque shorts may offend other families on the flight. While the customer was not denied boarding, the crew members politely asked if she could change. The customer agreed and continued on the flight without interruption.We support our crew members' discretion to make these difficult decisions, and we decided to reimburse the customer for the cost of the new shorts and offered a credit for future flight as a good will gesture."
As Mashable points out, there is no dress code on any U.S. carrier, but JetBlue's contract of carriage does state that passengers whose "clothing is lewd, obscene or patently offensive" could be denied boarding. 
From schools to work to gyms, women have either been sent home or asked to change when wearing clothing that some have deemed too revealing. As Mic's Rachel Lubitz wrote earlier this month, "All of these rules are constructed to make elders (and sometimes young boys) feel more at ease, as if seeing a shoulder blade or knee will send someone into a catatonic, drooling, lustful fit."
Read more: Woman Told by Gym Staff That Her Tank Top Was "Offensive" 
"Yes, she did deserve to be treated like that. Put some clothes on. She looks like she's wearing underwear or a bathing suit. Have some class and dress appropriately for public," and "Yeah she was going on a flight not on stage. Have a bit of self respect," are just two of the comments on Facebook, out of thousands, that highlight how important this conversation is.
Besides the fact that McMuffin's shorts were not showing much of anything, in this case, what's especially startling is that an airline believed her outfit, or more specifically her legs and thighs, could "offend other families on the flight." Because it would be terrible if little children saw a woman's legs. (The horror!) 
As McIsaac asks, "How does what Maggie was wearing affect her ability to fly?" The bottom line is: It doesn't. And it doesn't affect any of the non-striped-short-wearing people on the plane, either.