Snoop Dogg Fed Up With Slavery Stories: "Let's Create Our Own Sh*t Based on Today"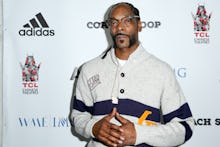 West Coast rap icon Snoop Dogg got political over the Memorial Day weekend. In an Instagram video posted Monday ahead of the History Channel's debut of a Roots remake, the rapper blasted Hollywood over its frequent use of American slavery narratives in film and TV projects.
Snoop, 44, seemed incensed by the choice to air the remake on Memorial Day and condemned Hollywood's laziness in finding stories about how African-Americans live today. "I'm sick of this sh*t," Snoop said in the video, titled "Message." 
Mentioning Roots and the 2013 film 12 Years a Slave, the rapper said he's fed up with watching projects about "the abuse we took hundreds and hundreds of years ago."
(Editor's note: This video includes strong language that some might find offensive.)
"I ain't watching that sh*t, and I advise you motherf*ckers as real n*ggas like myself; f*ck them television shows," Snoop said. "Let's create our own sh*t based on today, how we live and how we inspire people today. Black is what's real. F*ck that old sh*t."
He also asked rhetorically: "They going to just keep beating that shit into our heads about how they did us, huh?" The answer to that question is yes, given how well depictions of slavery have played to audiences in the U.S. and worldwide. That's not necessarily a bad thing — though Snoop suggests otherwise — given the historic underrepresentation of African-American stories in the mainstream media.
Slavery is big on TV and at the box office.
For starters, Roots, the TV adaptation of author Alex Haley's Pulitzer Prize-winning book of the same name, originally aired in 1977 as a miniseries on ABC. It went on to win a Golden Globe and a Peabody award after it smashed U.S. TV ratings records.
In addition to HISTORY's four-part Roots remake, cable channel WGN aired the season finale of Underground on May 11. The action-drama series is about the Underground Railroad, which helped thousands of slaves escape southern plantations to live freely in the Northern U.S. and Canada. WGN announced in late April that the series had been renewed for a second season.
As for the big screen, actor-director Nate Parker's Birth of a Nation slayed at the Sundance Film Festival earlier this year. The film, which depicts the storied slave revolt led by Nat Turner, earned top festival awards and was acquired by Fox Searchlight for a record-shattering $17.5 million. The film is set for theatrical release in October.
That continues a string of successes for films about American slavery in recent years. Director Steve McQueen's 12 Years a Slave grossed over $56 million in domestic box offices, on a production budget of $22 million. It won the best picture at the Academy Awards in 2013 and earned actress Lupita Nyong'o a best supporting actress Oscar.
Django Unchained, the 2012 Quentin Tarantino film starring Leonardo DiCaprio and Jamie Foxx, grossed over $162 million domestically against a $100-million production budget. The film earned Tarantino best screenplay awards at the Oscars and the Golden Globes.
The legacy of slavery continues to this day. 
There are reasons beyond financial success that slavery may be a crutch for film producers; it's an easy way to show media critics that studios haven't forgotten about Hollywood's diversity problem and tell complicated stories about the impacts of slavery. Most of the socioeconomic disparities in income, wealth, education and health between whites and blacks are rooted in institutionalized racism and date back to the Jim Crow era of segregation and slavery.
There's also the fact that slavery is still a problem domestically and globally. Now more commonly referred to as human trafficking, an estimated 20.9 million people are enduring some form of slavery today, according to the National Underground Railroad Freedom Center.
That's 20.9 million reasons why Hollywood should continue telling stories about slavery. To Snoop's point, Hollywood shouldn't be given a pass on finding forward-thinking ways to tell stories about black folks — but that also doesn't mean that creators shouldn't tell the stories they already are.