ASOS Is Sending People Extremely Oversized Jeans — And No, It's Not a Mistake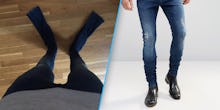 In a post that has been retweeted more than 20,000 times, ASOS customer George Riggall pointed out the British retailer is being a bit generous with its fabric length, adding what looks like over a foot of fabric to its jeans.
The left pair in the first photo is the 32-inch leg that Riggall expected when he ordered the pair of jeans on the right. 
While some might assume this is simply a factory mistake, ASOS explained in an email the pants are the brand's menswear Super Skinny Longline Stacker jeans and are supposed to be this length. 
The product description says the pants are "cut longer than standard length" and "push the leg up for a gathered effect."
Apparently, however, many did not get the memo, as users have taken to Twitter to contact ASOS customer service with similar complaints.
Meanwhile, others are using the situation to crack some jokes. 
Joke or no joke, there is no way these stacked, skinny-at-the-bottom jeans could possibly be comfortable. 
Read more: Online Retailer Claims to Be Selling Puppies as Fashion Accessories