In 2016, Police Officers Are Getting Brownie Points For Not Gunning People Down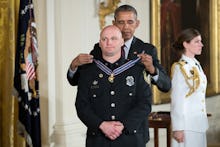 And the award for not shooting an unarmed black person goes to ... these 40 officers with the Philadelphia Police Department.
A report published by the Associated Press Tuesday revealed that a growing number of U.S. law enforcement agencies are rewarding officers for showing restraint in the line of duty — and the Philadelphia PD is one of them.
The City of Brotherly Love has a police force of about 6,600 sworn members, a few dozen of whom have earned a "medal of tactical de-escalation," as it has become known, since December. They've done so by following a simple set of criteria: not shooting, clubbing or using other forms of lethal or excessive force against the city's citizens. 
The award does not come with any monetary bonus or other on-the-job perks, a Philadelphia police spokesperson told Mic on Tuesday. Officials established the medal after a federal probe into the city's police practices recommended they do so in 2013, according to AP.
It's quickly becoming trendy to reward police officers for showing restraint: The Los Angeles Police Department recently created a "Preservation of Life" award for officers who decline to use lethal force in the line of duty. 
And, later this year, the U.S. Department of Justice will for the first time recognize officers who de-escalate otherwise tense situations in the field as part of the Attorney General's Award for Distinguished Service in Community Policing initiative. The program includes awards for innovations in community policing, criminal investigations and field operations. The trend in rewarding officers for de-escalation comes after the Obama administration's pushback on police abuse last year. 
Police killed as many as 1,186 people in 2015, according to tabulations by news outlets and grassroots groups, including the Washington Post, the Guardian and killedbypolice.net. National attention to officers' professional conduct has grown largely due to police-involved deaths in communities of color over the last few years, including the shooting of Michael Brown in Ferguson, Missouri, and the fatal arrest of Eric Garner in Staten Island, New York.
But de-escalation is not universally popular among police groups.
Law enforcement think tanks have found officers receive far less de-escalation training than they do in firearms and self-defense tactics. De-escalation, which can include avoiding heated confrontations and maintaining distance in tense situations, has not won favor with many police union groups. 
Rich Roberts, a spokesman for the International Union of Police Associations, told AP that de-escalation techniques are kosher, as long as they don't impair an officer's ability to use split-second force tactics when other efforts don't work.
The LAPD union, however, panned the Preservation of Life initiative last November. "This award will prioritize the lives of suspected criminals over the lives of LAPD officers and goes against the core foundation of an officer's training," the union said on its website.