This Man's Viral Facebook Post Perfectly Highlights The Sexism In Clothing Sizing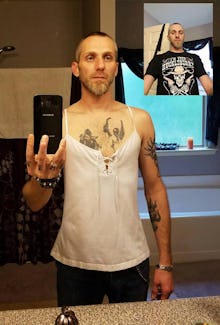 Michael Jammer has but one question: Why are women's clothing sizes so small? 
In a Facebook post uploaded on May 20 that has since been shared more than 75,000 times, the father of four explained how he didn't understand how his wife's extra large tank fit his slender frame. 
"I'm extremely irritated and let me tell you why," he wrote. "I took these pics to prove a point. I'm 6'1" 150 lbs, I'm not a huge guy. I wear a medium shirt. So when I go shopping with my wife and see her get aggravated, I now understand why. This is her shirt. It's an XL. Do I look extra large to any of you? NO, either is she, so why do these companies continue to shame women and their weight."
"She lost over 50lbs," Jammer said in an email with Mic, explaining his original thinking for the post. "She was so excited about going shopping and even getting a swimsuit." They realized it seemed that sizes went up, meaning an extra large was now what a large or a medium once was.
With comments like, "I never thought that I would ever worry about such an important issue, but as I read and think, I only pray that my little girls will never have to experience such a demoralizing experience themselves." And, "I am always looking for work clothes and most times I end up with one okay looking thing and tears in my eyes as I leave the store," Jammer realized how many people resonated with his post. 
He, along with three friends, decided to launch a Facebook group where members, there are already over 7,000, could post about similar experiences, discuss self-esteem or generally speak about their bodies in an open and welcoming environment. Some have sought advice, asking for tips about eliminating stretch marks, while others have shared deeply personal stories about the struggles they've faced being plus-size in a culture that values slim bodies above others.
"There is not a set standard for clothing," Tyler Robillard, one of the people who helped launch the group, said in an email. "So, it makes thing difficult for anyone to find their size for their build. [Michael] ultimately wanted to get everyone's views on the matter and get the word out about the problems that many people are having and to get change. Change the way society is labeling things. Change the way people feel about themselves."
What Jammer is especially concerned about is how children see themselves in a society that has created labels and set standards for what one should look like. "So many have reached out to me, but it's the children's stories that break my heart," he explained. "Too many young adults [are] being shamed for their sizes." 
And he's not the first to speak out about this issue. Within the last few months, multiple young people, including Sarah Petty and Jessica Portelli, have gone viral for clapping back at those trying to body shame.
Read more: This Facebook Rant Shows the Disconcerting Way Sizing Has Shrunk In Two Years
From magazines, to celebrities and influencers on social media, there is overwhelming presence of filtered, seemingly flawless individuals. But it's important to note that the promotion of an unattainable body image is not limited to Instagram or the cover of Vogue — it could simply be coming from the tag of a T-shirt. 
Just last week one woman's Facebook post went viral for pointing out how a current size 10 pair of shorts had the exact same waistline and width as a size 4 pair she bought two years back. A few weeks before, Facebook user Benjamin Ashton Cooper shared a photo similar to Jammer's, where he tried on his girlfriend's XL top and wrote "a woman my size is NOT an extra large woman." 
All three have the same message: Although it shouldn't matter what is on a label, it's still pretty disconcerting that there is such a discrepancy between women's clothing sizes, both when compared with men's and not. 
"It's time everyone feel comfortable in their own skin," Jammer says. "No one should feel ashamed when they go shopping."