Gina Rodriguez Keeps Her Promise, Sends a Fan to Prom Wearing Her Golden Globes Gown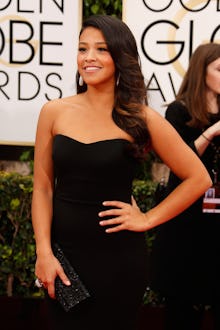 While some teens design prom dresses that are inspired by a celebrity — like India Ross did a few weeks back — others, like Jessica Casanova, simply get to wear their favorite stars' gown straight off the red carpet. Try and one-up that. 
Back in January, Casanova tweeted Jane the Virgin star Gina Rodriguez telling her she'd like to wear her 2015 Golden Globes Badgley Mischka dress to prom. 
While most tweets to celebrities go unanswered, the actress responded asking Casanova where she lived. 
The dress arrived in March, and on Thursday, the teen wore the dress to her prom and, of course, tweeted photos to Rodriguez with the caption, "Slaying prom because of you." 
According to E! News, in addition to the dress, the 31-year-old Golden Globe-winner also recorded a video for Casanova. 
"Wearing Gina's dress gave me goosebumps and chills," she said in an email. "She has done so much and has made my first and last prom the greatest memory. I [was honored] to wear her gown and I hope whoever gets it next takes very good care of it like I am because she wants to save it for her daughter one day."
Now, if only we could get our hands on, say, Rihanna's 2015 Met Gala dress or Kate Middleton's wedding gown. Wishful thinking.