This Viral Amy Schumer/Aphrodite Side-by-Side Has an Unexpectedly Body Positive Message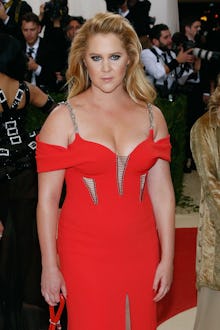 Amy Schumer was praised by the media and fans alike when she posed in her undies for Pirelli's 2016 calendar. It was refreshing to see the raw image of Schumer's figure, complete with a round belly on proud display in a publication that had up until then traditionally featured slender supermodels. 
As Instagram user Whitney Zombie pointed out on Sunday, it turns out that the 35-year-old might've inadvertently taken some tips from the Greek goddess of beauty's play... errr... posebook — which in turn reminded her just how much society's ideal of beauty has unfortunately changed.  
"On the left is a sculpture of the goddess Aphrodite, who is renowned for her beauty," she captioned a side-by-side of the goddess and actress on Sunday that has since been liked over 27,000 times. "On the right is @amyschumer. What a wonderful resemblance between two beautiful women." 
Zombie's point: to highlight unattainable societal beauty standards set into place — even though the goddess of beauty herself didn't fit the slim and slender body image that has since come to flood magazines and social sites.  
"So many women and young girls are shamed by the media and fashion industry for not having a flat stomach and not being a size zero," she wrote. "But look, the goddess of beauty is portrayed here with stomach rolls and doesn't have a perfectly smooth, toned body. I want to remind everyone that they do not have to be a Victoria's Secret model to be a beautiful goddess with a beautiful body. Your body is not bad, ugly or wrong. Embrace your inner goddess." 
Read more: Amy Schumer Claps Back at Internet Trolls Mocking Her for Bathing Suit Photo
But because trolls have nothing better to do than to spread hate, Whitney felt compelled to post a second Instagram addressing the nasty comments and reaffirming her point. 
The negative comments focused on tangential speculation that Schumer doesn't write her own jokes, as well as the fact that Aphrodite was also the goddess of pleasure and sex — therefore people were, as Whitney described it, trying "to slut shame Aphrodite and Amy."
"There is no correlation between the accusation and my statement about body positivity," she wrote. "I didn't know the post would blow up like this, so I was nowhere near prepared for the onslaught of negative and hateful comments. I can't imagine the hell that people who are shamed for their bodies must feel all the time on Instagram." 
On Tuesday, Schumer reposted both the caption and image, writing "So cool" and "thanks for posting this."
Many have commented on Schumer's Instagram, thanking her for being so candid when it comes to her body. 
"Fucking love it woman! Real to the core," one person wrote. "I have no idea if anyone will see this, but I really needed to hear this today. Thank you so much," said another. 
 I want to remind everyone that they do not have to be a Victoria's Secret model to be a beautiful goddess 
Herself no stranger to the body positivity conversation, just last week Schumer clapped back at those saying negative things about a paparazzi shot of her in a bathing suit, writing, "This is how I look. I feel happy." Prior to that, in April, she sparked a debate when she called out Glamour Magazine for calling her plus size on the publication's plus size only issue, claiming that it miscategorized her, as she is between a size 6 and 8. 
"I think there's nothing wrong with being plus size," she wrote on Instagram at the time. "[But] young girls seeing my body type thinking that is plus size?" She later added on Twitter: "Bottom line seems to be we are done with these unnecessary labels which seem to be reserved for women."
Regardless of whether or not people agreed with Schumer's disdain with being labeled plus size, with both the calendar photoshoot and numerous social media posts, it's refreshing to see someone like Schumer undaunted in her continued pursuit of challenging beauty norms — both in Hollywood and for men and women everywhere.