The Inspiring Reason This Artist Is Giving Free Temporary Tattoos to Children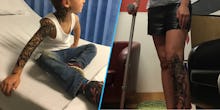 Sometimes all it takes is an intricate custom tattoo to cheer up a child... an airbrushed one, of course.
That's just what 25-year-old New Zealand artist Benjamin Lloyd is providing. He's been traveling to hospitals and health centers to temporarily tat up young children. Why, you ask? To boost kids' confidence.
Lloyd had previously airbrushed the children of friends and family using non-toxic ink, the Bay of Plenty Times reported. 
He decided to post an image to Facebook saying that if it received 50 likes, he'd go to the Starship Children's Hospital in Auckland to tattoo its patients. Lloyd ended up getting 50 likes in 30 seconds, with the post currently boasting 469,000 likes and more than 250,000 shares — impressive numbers for a man whose only mission was to put smiles on kids' faces.
But it didn't just stop at Starship. Comments like "Wish you were in America! We have a children's hospital with so many kiddos that cannot leave their hospital floor," and "Love love love this. From a parent who spent 6 months at Cincinnati children's hospital with my son before he passed. This is a great thing you do" led Lloyd to set up a donation website so that he could travel and "spread the love."
Hospitals have been known to host similar activities, such as face painting — but Lloyd's work is a unique form of creative expression.