Feds Won't Prosecute Officers in Jamar Clark Shooting Case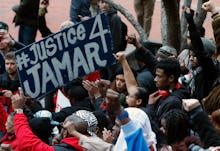 A federal prosecutor announced Wednesday that authorities will not bring civil rights charges against Minneapolis police officers who shot an unarmed black man last year, the Associated Press reported. On Nov. 15, an officer shot 24-year-old Jamar Clark in the city, sparking large protests that included the occupation of the Minneapolis Police Department's fourth precinct headquarters and the temporary shutdown of holiday travel at the Minneapolis-St. Paul Metropolitan Airport.
Clark, who had been arrested in connection to a domestic disturbance call, refused orders to take his hands out of his pockets, according to an investigation by the Minnesota Bureau of Criminal Apprehension. Authorities said a struggle between Clark and the officer led to the shooting. Clark died in the hospital the following day.
Protesters have since questioned authorities' narrative in light of conflicting witness accounts suggesting that Clark may have been handcuffed when Officer Mark Ringgenberg shot him, according to the AP. Activists had called on authorities to release video surveillance of the area.
Ringgenberg and a second officer, Dustin Schwarze, had been placed on leave while the department investigated the shooting. In March, the Hennepin County prosecutor declined to file criminal charges against the officers, citing forensic evidence that casts doubts over a belief that Clark posed them no threat. Mayor Betsy Hodges then requested a federal civil rights investigation. 
In addition to the weeks-long occupation of a north-side city police station, the protests at the nearby Mall of America and Minneapolis-St. Paul Metropolitan Airport, several activists were injured when a group of white supremacists opened fire on a gathering of Clark supporters. The assailants were later arrested and charged by local authorities.