This Powerful Trans at Work Campaign Inspires Companies to #HireTrans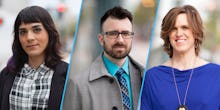 Up to 47% of transgender people report that they've been unfairly fired or denied employment based on how they identify. Up to 76% report workplace harassment. And although trans people are twice as likely to hold a bachelor degree, they are also twice as likely to be unemployed. 
The San Francisco LGBT Center is trying to fix this by raising awareness of the challenges trans, queer and nonconforming people face in the professional world. 
Their plan? Launching the Trans at Work Visibility Campaign, highlighting 12 people in the trans, queer and nonconforming community and their experiences. 
Meet the trans activists below, and hear them out:  
1. Alic, Pediatric Oncology Nurse  
"I want people to know that trans individuals are and can be providers of care. Too often we are seen as having little or no agency within the healthcare system... I want to show that there is still diversity within the field and an imperative within the current system to have more diverse groups of people represented...  We need clear non-discrimination laws covering gender identity and expression as an important part of the solution, which can help stop the discrimination before it happens."
2. Caleb, Lawyer 
"As an immigration attorney, I specialize in LGBT asylum cases. I work to save the lives of people who would face death for being LGBT in their home country. I think it's important to share stories of trans people in the workplace and drive more visibility because these are the people that often have the most trouble getting employed... I've interviewed many people who can't get jobs because the employer finds out they are trans. We are talking about highly qualified and competent people – including veterans who have served our country honorably – who are now the ones being constantly passed over for jobs."
3. Candy, Supervising Coordinator, HealthRight 360/Walden House
"I came into treatment at Walden House broken and lifeless. Eventually I was given a chance to change and make something of myself. I am now a supervising clinical coordinator in the same program I initially entered. Our community is challenged with many obstacles, and I hope that my story will give others hope. I feel that when given the right opportunity, it's in our nature to be completely dedicated and determined to do the best we can. We just need the chance to do so."
4. Clair, Director of Economic Development, SF LGBT Center
"When I was 18, I was fired when I transitioned on the job. They refused to let me use the bathroom that matched my gender identity because other women were uncomfortable. I moved to New York City in hopes of more acceptance but couldn't find a job despite my experience and privilege; employers were afraid that I would make customers uncomfortable. 
"I came out two years ago and I knew immediately that the first thing I wanted to do was help others in the LGBT community. As a software engineer in the Bay Area, with an established career and a decent salary, I'm well aware of my incredible privilege. I have the responsibility to try and help those that haven't been as fortunate... As a trans woman who came out at age 40, I was afraid I'd be judged by the LGBT community, but I was wrong; I have been welcomed with love, support, encouragement, and unbridled acceptance... We all deserve a chance to succeed."
6. Donna, Advocate and Performer
"In the past, making the decision to live an authentic life was deadly. Today, I'm still here! As a transgender drag queen performer and advocate, it's important for me to be a greater part of the effort to push for more rights and visibility within the workforce. Ultimately for the community, the goal is simply to be normal within all aspects of our lives."
7. Frida, Community Health Outreach Worker, SFUSD
"I work in the education field for SFUSD's School Health Programs. It's important for employers to realize that the perspectives of transgender and gender nonconforming employees are crucial not only in the work environment, but in a society that has only recently started to shift away from the biological paradigm of sex and gender as fixed binaries. As a community, our visibility matters, to make sure the paradigm continues to be pushed in each individual space we occupy..."
8. Marrisa, Risk team leader, technology startup
"I moved to San Francisco looking to embrace a city long know for its progressivism and strong queer community. When I arrived however, housing options were limited and my resources quickly thinned (despite working two or three jobs). I was college-educated, but what I considered a real career felt out of reach. I moved to San Francisco looking to embrace a city long know for its progressivism and strong queer community. When I arrived however, housing options were limited and my resources quickly thinned (despite working two or three jobs). I was college-educated, but what I considered a real career felt out of reach. I got sucked into the limits and misconceptions placed on trans women in society ... Everyone deserves the opportunity to forge a path in a career they love, and I wish more trans people had the opportunity to do so."
9. Mia, Director, TAYSF
"I am a former homeless youth... I'm not just dreaming of a world free from discrimination, but I'm also educating employers on how to best support their trans staff and clients... I plan on being the first transgender person elected to public office in San Francisco. Employment discrimination against trans people is still pervasive even in states with explicit protections. When I applied to a retail job in Berkeley, I had a shopkeeper throw away my resume before I even left. Some employers struggle with their own biases against hiring trans people; not only is that illegal, it's just plain wrong... My trans experience is not a hindrance; it's an asset!"
10. Ms. Peaches Montrice, Performer and Advocate
"I've been an entertainer and advocate over 20 years, having performed in the United States and abroad. I am a proud parent, partner, social justice advocate and activist for Black Trans Lives Matter and the TGI Justice Project. I hope that one day, we will all be free. I want to inspire justice and equality for future generations, and I believe there needs to be more social and economic justice for trans women..."
11. Penny, United States Park Ranger
"I am the very first open transgender woman in the 100-year history of the National Park Service, and I'm hoping to change that! I've been protecting visitors to the national parks for the last 14 years. The irony of my career is that I represent the antithesis of what I think people fear about us. I'm the one that shows up when people have run into trouble ... I feel that if transgender people remained in the shadows out of fear, people will think we belong there. I am here. I am out. I am proud. And I am a transgender woman."
12. Sophie, Data Scientist, HER
For more photos, visit the campaign's website.