Is Jamie Foxx's 'White Famous' Showtime Series A Good Sign For Hollywood Diversity?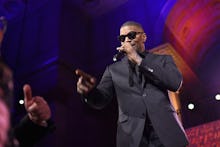 The Showtime network has ordered a pilot episode for White Famous, a scripted comedy series from executive producer Jamie Foxx that deals with diversity in Hollywood.
The show will follow the exploits of a talented, young African American comedian whose star is rising in a predominantly-white entertainment industry. 
Foxx, whose own biography mirrors that of the series' protagonist, will play a recurring role in the potential TV show.
"I came up from standup comedy, so to be able to share that aspect of my life on screen with a project like White Famous is incredibly exciting," Foxx told Deadline Hollywood Monday.
Foxx's project seems destined to at least marginally address criticisms that Hollywood won't develop diverse roles for black actors.
The itself title is a tongue-in-cheek reference to the moment when a non-white actor's race becomes a secondary attribute to their notoriety – hence, they cross over and become famous in the same way A-list white actors are.
In recent years, racial and gender diversity in American entertainment has dominated discussions about the industry's future. For the second consecutive year, none of the Oscar-nominated actors chosen by members of the Academy of Motion Picture Arts and Sciences was a person of color in 2016.
White Famous co-producer Lionsgate has already been pushing back on this overwhelming whiteness, having previously partnered with black directors Tyler Perry and Lee Daniels on film projects that featured majority-black casts.
Unfortunately, it's still an uphill battle. Roles for entertainers of color in TV and film are often rife stereotypes — such as the "black best friend" who rarely gets a complex story arc of their own. 
This was part of rapper Snoop Dogg's criticism earlier this week, when he encouraged a boycott of the History Channel's remake of the slavery-themed TV miniseries, Roots.
"Let's create our own sh*t based on today, how we live and how we inspire people today," Snoop said in a video posted Monday to his Instagram account. "Black is what's real. F*ck that old sh*t."
Despite Snoop's protest, Roots became the most-watched miniseries premiere in three years when it aired Monday. A total of 8.5 million viewers tuned in for the first of four installments across four basic cable channels, according to ratings firm Nielsen Fast National. 
Meanwhile, Hollywood's problem with minority underrepresentation continues largely unabated.
The United States' has over 318 million residents, nearly 40% of whom are non-white, according to the Census Bureau. A 2016 study by the University of Southern California's Annenberg School for Communications showed some non-white racial groups were almost entirely absent on-screen from Hollywood projects in 2014 and 2015.
For instance, researchers examined 414 projects released by major film and TV studios both years and found about 50% of them did not cast an Asian or Asian American actor. Twenty percent of the content did not include a black character.
Perhaps Foxx's project with Showtime and Lionsgate, hot on the heels of the Roots reboot, will help swing these numbers in the other direction.