Special Prosecutor in Laquan McDonald Case Is Another Victory for Chicago Black Activists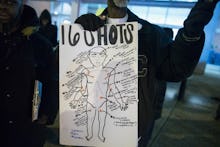 While local media may have covered them from the beginning, the protests surrounding a white Chicago police officer fatally shooting a black teenager shot into the national spotlight last fall. But activists in the Windy City had spent more than a year seeking justice for 17-year-old Laquan McDonald, who was shot 16 times by Officer Jason Van Dyke in October 2014.
Indeed, developments in the case came quickly after a court in November ordered the release of dashcam video that showed officers had lied about the circumstances leading up to the shooting. Van Dyke and other officers claimed in reports that McDonald, who had a knife, lunged at officers before they shot. The video showed that the claim was false. City officials who fought to keep the video sealed from public view were accused of a cover-up.
Throught grassroots organizing, meetings with politicians and protests, activists demanded three things: for officials to face consequences for withholding the McDonald shooting video, for Van Dyke and other officers to be criminally charged or investigated in the case and for an independent special prosecutor to handle the officers' criminal cases.
They got nearly everything they fought for. On Thursday, Cook County Circuit Judge Vincent Gaughan announced that he would find an outside prosecutor for the case against Van Dyke, the Associated Press reported. The officer was charged with first-degree murder within hours of the release of the shooting video that shows him firing round after round into McDonald as the teen lay motionless on the ground.
Here are three other developments in the case that were spurred by local activism:
The Cook County state's attorney lost bid for re-election.
The charges against Van Dyke were filed by Anita Alvarez, the embattled Cook County state's attorney whose loss in a March primary election was influenced by a coordinated grassroots campaign against her. Activists questioned her decision to wait more than a year to charge Van Dyke, and only after a court ordered the shooting video to be released.
Alvarez, who will leave office next December, asked last month to step aside in Van Dyke's prosecution.
Chicago's mayor and police officials vowed policing reforms.
Alvarez wasn't the only official accused of a cover-up in the McDonald case. Mayor Rahm Emanuel, who faced heavy criticism from activists over his role in the investigation, asked for the resignation of white police Superintendent Garry McCarthy.
In April, the City Council approved Emanuel's replacement, 27-year Chicago police veteran Eddie Johnson, who is African-American. Johnson, along with a policing oversight task force, will administer sweeping police reforms that officials believe address longstanding complaints about street officers' overly aggressive tactics, Emanuel has said.
Federal law enforcement officials investigate Chicago police
In December, the U.S. Department of Justice launched an investigation into Chicago's police "pattern or practice" of excessive uses of force against civilians. "Building trust between law enforcement officers and the communities they serve is one of my highest priorities as Attorney General," Attorney General Loretta Lynch said in a statement about the probe.
The investigation and Van Dyke's trial are ongoing. It's clear that the mostly young and black Chicagoans pushing for change and police accountability in their community have successfully leveraged the movement for black lives that has swept the nation in the last few years.