Michelle Obama Keeps It Real: 'I Wake Up in a House Built by Slaves'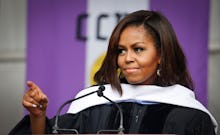 The U.S. is a diverse nation of immigrants, and first lady Michelle Obama won't let you forget. It's also a nation whose earliest monuments and institutional buildings were built with the help of African-American slaves.
"Every single day... I wake up in a house that was built by slaves."
Obama delivered a message to that effect at the 170th commencement of the City College of New York in the historically black Harlem neighborhood of Manhattan on Friday. The speech marked the final commencement address as first lady for Obama, who is the first black woman to symbolically serve in the position.
In one quote, the first lady summed up why the historic achievements of her and her husband, President Barack Obama, should be an inspiration and a source of pride to college graduates, regardless of their socioeconomic status or national origin.
"And, graduates, [the American immigrant story is one] that I witness every single day when I wake up in a house that was built by slaves, and I watch my daughters – two beautiful, black young women – head off to school — waving goodbye to their father, the President of the United States, the son of a man from Kenya who came here to America for the same reasons as many of you:  To get an education and improve his prospects in life."
CCNY's class of 2016 is one of the most diverse in the nation. More than 3,000 students make up the Class of 2016, according to the college. The White House says that more than 40% of the class are first-generation college students, 40% are non-native English speakers, and half come from low-income households.
The first lady made a habit of speaking at schools that showcase diversity.
Friday's speech was Obama's 23rd commencement address, and the third one she has delivered to the class of 2016, according to the White House.
Some of those nearly two dozen speeches were delivered at historically black schools, including the all-female Spelman College in Atlanta, Dillard University in New Orleans, and Bowie State University in Maryland.
Here's the first lady's full speech from Friday: