In Ramadan Statement, Obama Takes Veiled Swipe at Donald Trump's Islamophobia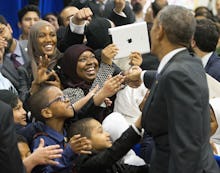 The greeting "Ramadan Kareem" — which means "have a blessed Ramadan" — marked the close of President Obama's statement on the Muslim holy month Sunday. Ramadan requires adherents to fast during daylight hours and commit themselves to serving others for 30 days each year.
The president's 410-word statement also included a veiled swipe at presumptive Republican presidential nominee Donald Trump, who has made multiple Islamophobic statements over the course of his campaign.
"As Muslim Americans celebrate the holy month, I am reminded that we are one American family," the president said. "I stand firmly with Muslim American communities, in rejection of the voices that seek to divide us or limit our religious freedoms or civil rights."
Obama's reference to divisive rhetoric seems aimed squarely at the real estate mogul, who called for a controversial and widely criticized ban on Muslim travel to the United States in December in response to terrorist attacks in San Bernardino, California, and Paris, France.
"I stand committed to safeguarding the civil rights of all Americans no matter their religion or appearance," the president added. "I stand in celebration of our common humanity and dedication to peace and justice for all."
There are 3.3 million Muslims living in the United States today, according to a recent estimate by the Pew Research Center. Divisive rhetoric — like that peddled by Trump — adds to an already tense environment for Muslims in the U.S., as hate crimes against Muslim Americans and their places of worship increased sharply last December, according to the Center for the Study of Hate and Extremism.
Such statements also impact those Muslims being driven away from their homes due to war and conflict worldwide. Since the Paris and San Bernardino attacks last fall, leaders in 30 states have called for a halt to the president's plans to resettle refugees displaced by the fighting between government soldiers, rebels and Islamic State militants in Syria and Iraq. 
Irrational fears of Muslims caused some to believe the U.S. wasn't equipped to vet the "good" refugees from those who may have been radicalized. In light of this opposition, the president doubled down on his support for refugees in his statement on Sunday.
"We will continue to welcome immigrants and refugees into our nation, including those who are Muslim," Obama said.
"[In] this month of reflection, we cannot forget the millions of lives that have been displaced by conflict and struggle, across the world and in our own backyards. Far too many Muslims may not be able to observe Ramadan from the comfort of their own homes this year or afford to celebrate Eid with their children. We must continue working together to alleviate the suffering of these individuals."