2016 Olympics and Zika: Experts Weigh In on the Risk of an Outbreak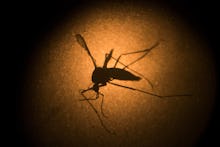 Hundreds of thousands of athletes and spectators are getting ready to travel to Rio de Janeiro, Brazil, for the 2016 Summer Olympics — but they'll be heading into the heart of the Zika virus outbreak.
Zika is still a big problem in Brazil and other regions, and now a battle is raging over whether or not it's responsible to host the Olympics in the middle of an ongoing epidemic.
Considering that Zika will inevitably spread, and there will be fewer mosquitos out in August in Brazil, the Centers for Disease Control hasn't recommended moving or delaying the games. 
"The CDC is very much in support of the games going on as planned, knowing that there are already inherent health risks with any kind of mass gathering," Tom Skinner, senior press officer for the CDC, told Mic in a phone interview.
Likewise, the World Health Organization previously declared there was no need to postpone or move the games. 
But on May 30, over 100 doctors and professors signed an open letter to the World Health Organization calling for the Olympics to be postponed or moved "in the name of public health." 
The letter has captured a lot of attention, and now the WHO has said it will hold an emergency meeting to review the risks on June 14. 
In light of all this, it's important to separate the myths from the facts.
If you're going to Rio, what are the chances of getting infected?
It's impossible to put an exact number on it, but epidemiologist Mikkel Quam came up with a rough estimate, according to NPR (emphasis ours):
But a preliminary model suggests that, at most, 1 in 31,000 people at the games will get infected with Zika, Quam and his colleagues recently reported. Officials are expecting around 500,000 spectators and athletes. Then the model predicts, there will be — at most — 16 cases of Zika at the Olympics. So attendees are much more likely to get the flu or food poisoning at the games than Zika, the European Center for Disease Prevention and Control concluded. 
The low number (1 in 31,000) is because August is winter for Brazil. The cooler, drier weather means fewer mosquitoes will be around.
"Further, since this is happening in the winter months, we don't think that it really is necessary to cancel the games or postpone or move them based on what we know right now," Skinner said.
Brazil sports minister Leonardo Picciani said there will be close to zero cases by August.
"We had 4,300 cases in April, which fell to 700 in May and there will be another significant reduction in June or July, and in August it will be very close to zero," he told the Guardian.
But according to Amir Attaran, a law and medicine professor at the University of Ottawa, we know so little about Zika that it's dangerous to assume we know how it will behave.
While it's probably true that Zika will decline in August, "nobody actually knows because Rio has never experienced a winter with Zika before," Attaran wrote in a blog post.
Further, weather forecasts show Rio will likely have a warmer than average August this year, Lee Igel, a professor at the NYU Tisch Institute, said in a phone interview.
Zika is going to spread with or without the Olympics
The spread of Zika is inevitable, Skinner said. That's just what infectious diseases do in a globally linked world. And the Olympics will represent less than 1% of all the normal, day-to-day travel to Zika-infected places, according to the CDC. 
"We don't suspect the games in Brazil are going to do anything out of the ordinary or expedite the risk that [Zika] will be transmitted," Skinner said.
As of May 26, here are the areas with cases of active Zika transmission:
As of June 1, there are 1,732 cases of the virus reported in the US and its territories:
Zika is so widespread already, it's possible the Olympics won't make much of a difference, NPR reported.
But one question is still on doctors' minds: Why host the Olympics in the middle of an outbreak of a poorly understood disease?
"True, there are always health risks with mass gatherings like an Olympic Games," Igel said, "but how many of those events take place in a location reeling from a turbulent economic, political and social condition plus a major virus outbreak? 
We know Zika causes microcephaly and other birth defects in infants, but there are many other unknowns. We don't know how long the virus stays in the body after infection, how risky sexual transmissions are, and whether or not it might cause a nervous system disease called Guillain-Barré syndrome.
American cyclist Tejay van Garderen has already withdrawn his name for consideration for the US Olympic team. Even some reporters at NBC, the broadcast network that gets exclusive rights to the Olympics, are refusing to travel to Rio to cover the games. 
South Korea has designed mosquito-repellant uniforms for its Olympians, and the Australian Olympic Committee has distributed anti-viral condoms to athletes.
If you're planning on traveling to Rio in August, the CDC has a guide on how to minimize your risk of getting Zika.