Duane Buck Was Sentenced to Death Because He Is Black. Now, SCOTUS Will Hear His Case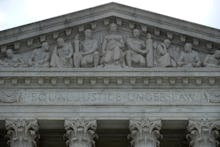 Duane Buck has spent almost 20 years on death row in Texas, fighting to get his death sentence reversed.
In the trial that led to his 1997 sentencing, the 52-year-old's defense lawyers called a psychologist to the witness stand who claimed Buck was more likely to commit murder in the future because he is black.
This dubious — and disproven — argument has been a subject of heated debate for years. But on Monday, the U.S. Supreme Court finally agreed to hear Buck's case — and determine whether his Sixth Amendment-protected right to fair and effective counsel was violated. 
Buck's own lawyers effectively used his race against him, according to the NAACP Legal Defense Fund, which has been representing Buck during the appeals process.
"[The] Supreme Court's decision to ensure that Mr. Buck's case receives full and fair review is not only constitutionally appropriate, it is an important step towards promoting greater public confidence in the integrity of our justice system," LDF President Sherrilyn Ifill said in a statement released Monday.
"No one should be sentenced to death based on their race."
Buck was found guilty in 1996 of fatally shooting his ex-girlfriend and her male companion the year before. He was scheduled to be executed in 2011, but a federal court stayed his execution until he was able to exhaust his appeal options — a process that can take the case all the way to the U.S. Supreme Court.
Buck's lawyers at the LDF now hope to set a precedent where no one can receive the death penalty on the basis of race, regardless of how circuitous the process to get there is. They plan to do so by proving Buck's counsel was incompetent, specifically because they presented a witness who made such an argument.
That the case has made it this far is a sign of the times, the LDF said.
"We are at a moment in history when Americans throughout the country are calling for the courts to ensure that the criminal justice system is administered fairly and without racial bias," Ifill explained in the statement.
Texas law states a death sentence can be imposed if prosecutors prove a defendant exhibits "future dangerousness" — or the likelihood a person will pose a danger to the public down the road — to the jury. And that's exactly what the prosecuting attorneys did two decades ago: they used Buck's lawyers' own expert witness against him.
A U.S. District Court refused to overturn Buck's death sentence in 2015, but even the judge in that case admitted Buck's trial counsel "recklessly exposed his client to the risks of racial prejudice and introduced testimony that was contrary to his client's interests," the New York Times reported.
The trial and appeals process constituted a set of legal circumstances that Buck's lawyers hope to prove were "extraordinary" in their racial bias.
"It is hard to imagine a more extraordinary set of facts and circumstances than those at issue in Mr. Buck's case," Christina Swarns, the LDF's litigation director, said in a statement. "No one should be sentenced to death based on their race."
Time will tell if the Supreme Court's justices prove sympathetic to Buck's argument. The LDF said it expects the court to hear the case in the fall or winter of 2016.