One Heartfelt Quote Shows Beyoncé Hasn't Forgotten Her Humble Beginnings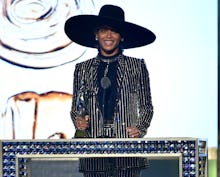 Beyoncé's daddy is from Alabama. Her mom is from Louisiana. "You mix that Negro with that Creole — make a Texas Bama!" Beyoncé extolled in her 2016 empowerment anthem "Formation." 
The song marked one of the rare times that the pop icon expressed pride in her black heritage through her music. Beyoncé spoke further on the topic Monday night when she was honored as a "Fashion Icon" at the annual awards ceremony of the Council of Fashion Designers of America, a trade association for U.S. clothing and accessory makers.
"When we were starting out in Destiny's Child, high-end labels, they didn't really want to dress four black, country curvy girls."
In her remarks, the singer recalled a time when a predominantly white high fashion industry had no interest in making clothes for girls who looked like her and her friends. Indeed, the fashion industry has struggled for decades to close the marketing diversity gap between white models and models of color. Beyonce explained the impact that a lack of representation had on her as a budding entertainer, in one heartfelt quote, according to the Associated Press:
When we were starting out in Destiny's Child, high-end labels, they didn't really want to dress four black, country curvy girls... And we couldn't afford designer dresses and couture. My mother ... used her talent and her creativity to give her children their dreams. [It felt] like an extra suit of armor. It was so much deeper than any brand name.
Beyoncé's mother, then-amateur fashion designer Tina Knowles, stepped in and created clothing for Destiny's Child. She hoped to instill the confidence they needed as young women of color from modest beginnings to conquer the music world, Beyoncé told CFDA awards attendees.
Beyoncé made the remarks ahead of her Formation World Tour's two-day stop in New York City, one of the world's fashion capitals. A 2015 report by the trade magazine, The Business of Fashion, surveyed the racial makeup of models in 117 fashion shows from the New York City, London, Milan and Paris fashion weeks. The data revealed that white models make up 79.4% of the 3,875 model bookings over the four weeks. While black models were the highest represented racial minority at 10.2%, Hispanic models were severely underrepresented at 1.6% of show model bookings. Asian models were 6.5% of model bookings, according to the BoF report.
While praising designers in the room, Beyoncé also pressed upon the importance of representation in fashion. "I encourage you to not forget this power that you have, or take it lightly," she said. "We have an opportunity to contribute to a society where any girl can look at a billboard or a magazine cover and see her own reflection."