The Big Problem With Rihanna vs. Beyonce Fandom Fights That Nobody Is Talking About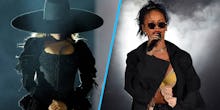 Those well-versed in the Twittersphere understand that fandoms are no joke. Twitter users flock to the social platform each time their "Queen," "fave," or "mom" drops a single, a powerful quote, a flawless look or a new brand partnership. Members of celebrity fandoms are some of the fiercest and most loyal supporters in the world, and also happen to be very territorial of the spaces their legendary leaders occupy. 
Enter Beyoncé and Rihanna, two of the world's most record-breaking, hit-producing women in the history of the global music industry, and their fandoms: the BeyHive and the Navy. 
Despite continuously selling out major arenas in world tours, shattering sales records with surprise album drops and continuing to build their empires in fashion, cosmetics and charity work, thousands of people spend a majority of their days battling each other on whether the two can even coexist in the same space. 
But there's no competition. As much as some of their strongest supporters might desperately wish, there is no need for any such competition to be had between two of music's leading ladies. Both are dominating records sales and global tours each at the same time, while landing magazine covers, raking in awards ranging from music to fashion — and earning serious paper in the meantime. 
And yet, for some reason, thousands are still trying to pit the two against each other. 
There are some reasons why people might be quick to pit the two against each other: For one, music is an abundantly male-dominated industry. And in the United States, there's a systematic effort from music labels to put female talents in competition with each other. Just ask British Grime rapper Lady Leshurr, who previously discussed her decision not to sign with Atlantic Records since she was being told she'd have to take on rapper Nicki Minaj. 
"When I started meeting people in the industry with negative energy and cruel intentions, it kind of put me off wanting to be involved in music," Lady Leshurr said. "That was never what I wanted to take part [in] in the first place."
Both ladies are women of color, which comprises yet another level of diversity that music, Hollywood and the entertainment industry are sorely lacking in. 
But fans of both Beyoncé and Rihanna should rejoice for the ability of others to support their own queen instead of focusing their energy on shutting them down. 
These fandoms can support their favorite artists without demeaning other women — the conjunctive success of both Beyoncé and Rihanna prove it's unnecessary to choose one from the other. 
Fandoms, put it to rest. Go spread the good word of your queen in peace.