Prince Day in Minnesota Is the Blackest Thing to Ever Happen in the State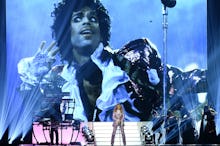 It's Prince Day in Minnesota and state residents couldn't be happier to celebrate the musician.
The singer died unexpectedly on April 21. Tuesday would have been his 58th birthday. 
As a Minnesota native, Prince has never had a state observance designated in his honor — until now. Gov. Mark Dayton proclaimed the holiday, which will take place only this year, in an announcement on Monday.
A day for "the Purple One" carries special significance for black Minnesotans.
Prince Rogers Nelson, born June 7, 1958 in Minneapolis, was raised in the city by African-American parents. 
He became a guitar virtuoso whose eccentric style was renowned globally as the "Minneapolis Sound," and contributed to Minnesota's worldwide prominence and economic growth, Gov. Mark Dayton wrote in the proclamation for Prince Day.
Prince remains a source of great pride for black Minnesotans. 
"For him to have grown up for part of the time in one of the most impoverished parts of our state and achieve what he was able to achieve is remarkable and is a testament to the resilience of African-Americans in the face of oppression," Nekima Levy-Pounds, president of the Minneapolis NAACP, said in a phone interview Tuesday. 
Today, black people represent 5.9% of 5.4 million residents in what is otherwise an overwhelmingly white state, according to the US Census Bureau. Gov. Dayton's proclamation could be more than just a symbolic gesture, Levy-Pounds added.
"To take it a step further, it's imperative that our government in Minnesota address the longstanding racial inequities that exist here and that Prince championed," Levy-Pounds said. "That way it becomes an opportunity to make the changes that will result in greater equity for African Americans and other people of color."
Prince follows a long line of African-American Minnesotans who made a mark on their state, the country and the world.
This includes figures such as George Bonga, who is believed to be one of the first African Americans born in Minnesota in 1802, andJohn Frank Wheaton, who, in 1898, became the first black person elected to the Minnesota Legislature.
Neither are nearly as well known as Prince — but they're certainly celebrated by organizations like the Council for Minnesotans of African Descent.
Check out the documentary below about other black Minnesotans who helped shape the state's history: