This Video Proves On-The-Street Racism Isn't As Rare As You Think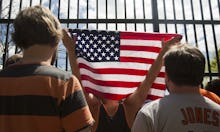 People are awfully bitter these days and this Facebook video, posted Monday by a Chicagoan who goes by Williams Netta, proves it.
As she records, an off-camera man who is presumably white calls Netta a "n*gger" and a "spear chucker," two racial slurs used to demean people of African descent. 
It sounds like something right out of Donald Trump's "make America great again" alternate universe. But it's actually part of a growing trend of public tirades unleashed by whites on unsuspecting minorities — seemingly emboldened by the presumptive Republican presidential nominee's penchant for demeaning racial and religious minorities.
"Nothing like a little late night racism on your commute home," Netta wrote in the video's caption. She began narrating near Western and Fullerton avenues in northeast Chicago, not far from Wrigley Field.
Netta, who appears to be African-American, said the unidentified man had been harassing a trio of Latino youth several blocks back, before she began recording. After she made sure they were "cool" and continued her walk home, Netta found that the man had turned his attention to her.
"Yeah, record all your want you f*cking n*gger," he is heard saying in the video. Before dropping the epithets, the man seemed to rant about white Americans giving up social and political power by allowing minorities to use the technologies — "cellphones and computers" — that whites created. "Dirty motherf*cker ... get the f*ck out of our country!"
Netta retorted that the man did not look like he was a member of a "Native American" tribe. "That, in of itself, is problematic," she said. In a subsequent Facebook post about the encounter, Netta explained that she wanted to dismiss the man as "mentally ill," but changed her mind after reviewing the video.
"Drunk, yes. Mentally ill, not at all. He felt SAFE in being able to verbally assault MULTIPLE [people of color,]" Netta wrote. She did not immediately respond to a request for an interview Wednesday.
As the last two years have seen race relations in the U.S. strained by protests of police brutality in communities of color, and by Trump's racial rhetoric in the 2016 election, there is evidence to support the idea that people feel emboldened to express racist attitudes in public. White Americans are angrier than black and Latinos — at least about the news, according to one recent survey.
According to the online poll conducted by NBC News and Esquire, via SurveyMonkey, in early January, 54% of white Americans said they were angrier about the news compared to one year ago. Just 33% of blacks and 43% of Latinos said the same. The angriest whites were male and Republican, the survey showed, and no longer believed in the "American dream."
Beyond anger, hate groups became more active and increased in number last year, according to the watchdog group, the Southern Poverty Law Center. "Donald Trump's demonizing statements about Latinos and Muslims have electrified the radical right," the center said in its spring Intelligence Report.
The number of radical right-wing groups increased 14% from 784 in 2014 to 892 in 2015, the SPLC said. A separate report by the Anti-Defamation League, another prominent hate group watchdog, revealed that those groups and lone-wolf extremists were also more violent in 2015.  "Domestic extremist killers" killed more people in 2015 than in any year in the last 20, the ADL said.
Netta later wrote she was thankful that that man's racist tirade didn't turn into violence. But she linked the racism to Trump's rhetoric on the campaign trail — which has included calls to build a wall at the U.S.-Mexico border to keep undocumented immigrants out and banning Muslim travel to the U.S. to prevent radical jihadist attacks. 
"This is how we're going to make America great again," Williams said in the video.