Very Woke Beyoncé Greets Trayvon Martin's Family at Her NYC Formation World Tour Concert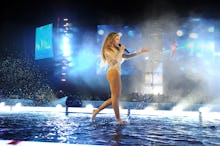 The strength exhibited by Trayvon Martin's family has clearly touched pop icon Beyoncé over the years.
Martin is the Florida teen whose shooting death in 2012 fueled a national conversation on gun violence and police brutality against black Americans, and attracted the attention of pop culture figures. That was further made evident by Beyonce's backstage meet-and-greet with Sybrina Fulton, Martin's mother, and Jahvaris Fulton, the late teen's brother. Jahvaris shared a photo he and his mother took with Beyoncé after her Formation World Tour concert Wednesday night in New York City.
Sybrina and Jahvaris also took a shot inside of Citi Field in Queens, New York, where the concert was held. 
Martin, a 17-year-old black American high school student, was profiled, trailed and gunned down in 2012 by Florida vigilante George Zimmerman, a half-white, half-Latino neighborhood watchman who told police he thought the teen was casing his gated community for burglary. Zimmerman was acquitted of second-degree murder and manslaughter charges in 2013.
In response, Martin's family launched an anti-gun violence campaign that aimed to reform a "stand your ground" law in Florida that allows citizens to get off the hook if they can prove self-defense in fatal encounters. Beyoncé and her rapper-husband Jay Z became public supporters of the Martin family after Zimmerman's acquittal.
Beyonce isn't new to the social justice game.
The singer continued to be a presence in the lives of Martin's family. She recently tapped Sybrina Fulton for her Lemonade visual album. The project, released in April, featured Fulton; Lezley McSpadden, the mother of Mike Brown, an 18-year-old killed in 2014 by a police officer in Ferguson, Missouri; and Gwen Carr, the mother of Eric Garner, a 43-year-old held in a New York police officer's fatal chokehold in 2014. The women were shown holding portraits of their sons.
"Queen Bey" has faced a backlash for supporting the black victims of gun violence and police brutality. 
After releasing "Formation," the first single from her latest album, Beyonce used her slot during the Super Bowl 50 halftime show to salute black social justice activists, including the Black Lives Matter movement that began after Zimmerman's acquittal in 2013. The performance also included a nod to the Black Panther Party — her backup dancers dressed in black leather and donned black berets.
In response, several police officers' unions called for a boycott of the singer's Formation World Tour stops in the U.S. Beyonce's response to the controversy has been spot-on.
In an April interview with Elle magazine, she pledged her support for police. "Anyone who perceives my message as anti-police is completely mistaken," she said.
She's also selling "BOYCOTT BEYONCÉ" T-shirts on her website and at her concerts.