Chicago Spent $11 Million on 200 Years' Worth of Unnecessary Jail Time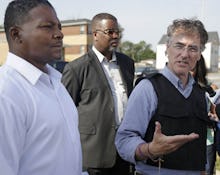 The Cook County Sheriff's office took an unprecedented step back in December and aired some the criminal justice's dirty laundry to the public: According to the Daily Beast, the city of Chicago wasted $11 million in taxpayer money last year to incarcerate people who should not have been in jail. 
In total, inmates served 79,726 so-called "dead days" in Cook County jail in 2015 at a cost of $143 per person each day. In a more recent update to the Cook County Sheriff's Office story, the Daily Beast added personal accounts to go along with these numbers.
One man, Froylan Ramirez, was arrested in 2014 for a DUI and spent more than a year in jail before his case was dismissed. In total, Ramirez's jail time cost Chicago $73,502, far outstripping the $25,000 fine he would have been forced to pay if he'd been convicted.
Sylvester Walker spent 514 days in jail before getting probation for a drug charge. Willie Mance allegedly tried to run over two Chicago police officers while drunk driving a car that wasn't his, and he's been in jail for a staggering 777 days. His case still hasn't been finalized, even though it has cost taxpayers more than $111,000.
"We want people to know this information," Ben Breit, director of communications for the Cook County Sheriff's office, said to Mic in a phone call. "For so many people, jails are out of sight, out of mind, [but] many of the reasons the criminal justice system is so broken is that data like this doesn't exist, because jails and prisons don't study their populations."
The original data is damning:
In 2015, 8,700 people spent time in Cook County jail despite the fact that their charges had been dropped entirely.
More than 1,000 people were "state turnarounds," which means that they were convicted of a crime that should've sent them to prison, but wound up spending so much time in county jail that their sentences had already been served.
Nearly 8,000 Cook County jail inmates in 2015 hadn't been convicted of a crime and were still awaiting trial.
"We want to find different ways to communicate to the public how horribly broke the system is," Breit said. "We want people to be fundamentally shocked, because this is shocking."