Here's Why Progressives Shouldn't Get Too Excited About Hillary Clinton's Nomination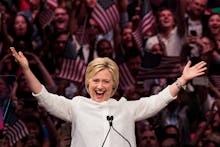 Hillary Clinton has emerged as the democratic party's presumptive nominee for president. It is a feat for girls and women, and for all people committed to shaking up a political system that has been as male-centered as it is white. History has been made.
"It may be hard to see tonight, but we're all standing under a glass ceiling right now. But don't worry. We're not smashing this one," Clinton told a crowd of supporters during her victory speech in Brooklyn on Tuesday. "Thanks to you, we've reached a milestone. The first time in our nation's history that a woman will be a major party's nominee."
Clinton may soon become be the 45th President of the United States — the first woman to hold the office. This type of symbolic representation is necessary. If elected, she would add one more name to the small roster of women who hold leadership roles in countries around the world. As president, Clinton also has the potential to increase the number of women and minority leaders within her administration. And little girls will have more reason to believe they can become president, too.
But symbolic representation is not the same as alignment around key political issues and tactics, nor does it guarantee results. President Obama's blackness did not exempt him from the criticism of black leaders for this very reason.  
On Election Day 2008, I walked along a dark street in New York City with tears streaming down my face. We had successfully elected the first black president. Obama's presence would be the necessary corrective to the long problem of racial exclusion in the Oval Office. Having a black person in the White House would mean there would finally be someone who could develop substantive policies redressing problems the black community faced.
"During a politically volatile time, Obama offered reassurance," The Nation's Mychal Denzel Smith recalled in his memoir Invisible Man, Got The World Watching: A Young Black Man's Education. "He represented a path forward, an escape from a morose and divisive view of the world."
At the time Obama began his first term, black America had suffered through Bill Clinton's unyielding welfare reform and tough-on-crime legislation in the mid-90s; the government's failed responses to Hurricane Katrina in 2005 under President George W. Bush, which hit the black community the hardest; the escalating use of strict law-enforcement tactics to address substance abuse; and the ongoing deaths of black people at the hands of law enforcement.
But as historian Keeanga-Yamahtta Taylor writes in her book From #BlackLivesMatter to Black Liberation, "President Obama turned out to be very different from Candidate Obama, who had staged-managed his campaign to resemble something closer to a social movement."
Once in office, Obama failed to live up to the "hope" and "change" rhetoric that so galvanized his supporters. The movement that sprung up around his candidacy evaporated.
Over the next eight years, the black-white wealth gap reached a 24-year high. A Pew Research Center analysis of data from the Federal Reserve's Survey of Consumer Finances revealed that the median wealth of of white households was 13 times that of black households in 2013. From 2010 to 2013, the median wealth of white households increased from $138,600 to $141,900. For black households, it fell from rom $16,600 to $11,000.
And African-American women earned just 60 cents for every dollar paid to white men; by way of comparison, white women make 79 cents for every dollar white men earn, according to a 2015 National Partnership for Women and Families fact sheet.
The Obama administration introduced My Brother's Keeper: its racial justice initiative in February 2014. The initiative, which included mentoring programs and grant opportunities for community-based organizations working with boys of color, was critiqued by women of color. Its singular focus on black and brown boys suggested that girls of color need less help navigating institutional bias.
Black people continued to live in a police state where people are surveilled, arrested and sometimes killed by law-enforcement officers who, for the most part, walked away free.
Smith, a self-described black millennial, goes on to describe the many incidents of racial violence — from the killing of Trayvon Martin to Freddie Gray — that hampered his faith in the black president he hoped would be good for black people.
"And then Michael Brown. And then Freddie Gray. And then the fire came and the nation didn't know what to do with it. And Obama couldn't save them," Smith wrote. "And we picked up bricks because the ballots weren't strong enough."
Obama likened black organizers and activists in Baltimore to "thugs" and "criminals" following the uprising in response to the death of 25-year-old Freddie Gray, turning his back on a significant portion of the base that voted him into office.
"Barack Obama became president right at a time when Black people needed help the most, yet has done precious little," Taylor explains. "In fact, when he ran again in 2012, he reassured the nation (or at least white supporters), 'I'm not the president of Black America. I'm the president of the United States of America."
But Obama wasn't all bad for black people. He was able to push through policies that will impact black Americans despite pushback from the Republican party. For example, Obama's 2010 Fair Sentencing Act repealed the mandatory minimum sentence for simple possession of crack cocaine. In January 2016, he announced a series of comprehensive prison reforms that included banning solitary confinement for juveniles.
Where presidents fail, social movements fill in the gap. Unlike the 2008 or 2012 elections, the race to the presidency this time is happening as an insurgent, widespread movement for black lives is transpiring across the country.
The uprisings and protests that have occurred over the past few years in response to the fatal encounters black people have had with law enforcement — from New York City to Ferguson, Baltimore to Cleveland, and Minneapolis to Waller County, TX  — represent a new iteration of the long struggle for black liberation in the U.S.
Social movements help to keep elected officials accountable. If not for the disruptive and sustained protests of activists, Obama would not have ordered the Department of Justice to investigate police departments in Ferguson, Baltimore, and Cleveland. Without the pressure of the movement, there would be no President's Task Force on 21st Century Policing. It was the work of black organizers in Chicago and Cleveland that propelled district attorneys in both cities to lose their primary bids for mishandling police shootings of black people.
In other words, social transformation requires more than a woman or black man in the White House.
This is the challenge that Clinton's ascension presents. There's reason to celebrate this historical milestone. But having a woman in the White House will not guarantee progress for women's rights any more than Obama's presidency guaranteed progress for black Americans. The public must always be ready to challenge its elected officials — even its firsts.