Elle Varner Is Dragged on Twitter for Slut-Shaming Critique About School Dress Codes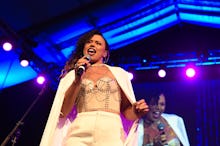 R&B singer Elle Varner is here for policing girls' fashion choices. She waded into the debate on school dress codes on Thursday in an Instagram rant about slut shaming, feminism and women's empowerment.
Best known for the 2012 boozy ballad "Refill," Varner took issue with a message posted in an unidentified location, in which the author blasts schools for instituting a misogynistic dress code.
The sign's author takes the school to task for requiring girls who break the dress code — by wearing clothing that shows off their legs or bra straps — to change outfits or go home. It sends the message that "a 'distraction free' learning environment [for boys] is more important than [girls'] education.
"Instead of shaming girls for their bodies, teach boys that girls are not sexual objects," the sign reads.
Varner, 27, shared a photo of the sign with her 571,000 followers on Instagram, calling it "the most ridiculous thing I've seen in along [sic] time." She has since deleted the post.
"We have grown women out here promoting 'slut' culture and validating their personal choices and actions behind phrases like 'slut shaming etc.," Varner wrote. "If you want to be loose or provocative then be that! But do you really need to encourage young, innocent, impressionable girls to wear shorter shorts and show their bra straps in school?"
Varner concludes: "So if we can encourage these kids, who luckily don't live in the dark ages or in time where little girls were married off to be someone's property ... does it really hurt to encourage them to dress for success, focus on their free education, and preserve their innocence a little while longer?" 
Varner responded to her critics via Twitter, claiming that her thoughts on feminism had been taken out of context.
Varner's Instagram post divided social media users. Some thought her critique was misplaced — as in not putting more emphasis on men and boys to change rape culture — and some found nothing wrong with it at all. 
Some people on Twitter laid into her:
Others seemed to agree with her overall sentiment:
Had Varner consulted with a few well-known social media feminist voices, she might have avoided the backlash. Feminism is not a theory focused on the idea that young girls and women seek liberation through sexual promiscuity. And young girls having "access to the same education and jobs as men" is hardly the case when race, ethnicity and class are thrown into the mix.