Azealia Banks Will Not Use This Gay Slur Ever Again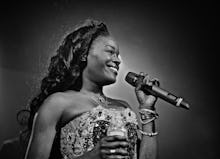 Azealia Banks has established herself as one of the culture's most polarizing queer icons. Most recently, she called Muslim pop star Zayn Malik a "curry-scented bitch" and was shut down by 14-year-old Disney star Skai Jackson. But the most controversial part of Banks's public persona has been her repeated use of the word "faggot."
Now, she's issued a seemingly heartfelt apology on Facebook, vowing that she is "never saying the word F****T ever again."
"The amount of people that get hurt when I use the word vs. the amount of people I've said it to are just not worth it," the singer wrote. "Honestly ... This isn't a cop out, its just me realizing that words hurt."
Banks, who identifies as bisexual, first came under fire when for using the slur in 2013, when she called gossip blogger Perez Hilton a "messy faggot" on Twitter. Two years later, TMZ published a video from a Delta Airlines passenger who recorded a heated exchange between Banks and an flight attendant, whom she called a "fucking faggot."
In the past, Banks has stopped short of an apology, arguing that the term has been reappropriated by the queer community and doesn't carry the same derogatory meaning that it once did. She's also fought back against accusations that she's a homophobe. "To be homophobic would imply that I'm, like, 'I can't sit next to a gay man cuz Imma catch the gay,'" she told Sirius XM's Xorje Olivares in 2015. "But I already caught the gay," she said about her own sexuality. "I feel like when I use the word 'faggot,' it comes from, like, a feminist point of view, not a homophobic point of view. It's really just kinda like you feel attacked as a woman."
Will this latest apology actually stick? Stay tuned.