In Texas, Smiling In Your Mugshot Will Get You Choked — If You're Black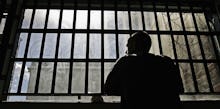 Christopher Johnson was arrested on July 25, 2015, in Harris County, Texas, for suspected drunk driving. Notice anything strange about his mugshot?
According to a civil rights lawsuit Johnson has filed against Harris County, he was choked by two officials at the jail for trying to smile in his mugshot. 
The photo clearly shows two officers in some kind of altercation with Johnson, and one of them has a hand around Johnson's neck. But the Harris County Sheriff's office argues that it followed its standard procedure, and that the photo doesn't tell the whole story.
"The Harris County Sheriff's Office believes that proper procedure was followed during the course of Mr. Johnson's booking," the office said in a statement, according to local news affiliate ABC 13. "Should any evidence arise to the contrary, proper administrative actions will be taken. At this time evidence suggests that Mr. Johnson's pleading does not hold merit."
Smiling in mugshots has long been a tacit act of defiance for people who find themselves in jail. The ones that have gained the most attention have belonged to celebrities.
Here's Khloe Kardashian in 2008 after her 2007 arrest for DUI in California:
And Justin Bieber's mugshot from 2014 for DUI in Miami:
And Lindsay Lohan's 2010 mugshot for possession of drugs and alcohol in California:
If you're rich, famous and white, feel free to flash those pearly whites at the jailhouse camera. But if you're black, watch out.