Muhammad Ali Remembered as a "Truly Free Man of Faith" at His Public Funeral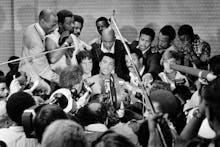 President Bill Clinton saluted Muhammad Ali as "a truly free man of faith" whose life choices inspired millions during a well-attended funeral service in Louisville, Kentucky, on Friday. The black boxing legend died at age 74 on June 3.
"I think he decided very young to write his own life story," Clinton said in one of several eulogies delivered Friday at the KFC Yum! Center. "He decided that he would not be disempowered." 
Ali's widow, Lonnie Ali, and some of his children offered heartfelt tributes. The event was live streamed online.
Thousands attended the service including dignitaries such as King Abdullah II bin Al-Hussein of Jordan and Attallah Shabazz, the daughter of the late civil rights icon Malcolm X. Actor Will Smith, who was nominated for an Academy Award for his portrayal of the boxer in 2002's Ali, was among 15 pallbearers.
Inside the ring, Ali became known as one of the greatest athletes of all time, winning three world heavyweight boxing titles and an Olympic gold medal. His outspokenness on issues of race and politics nearly cost him his career in the 1960s, but he inspired generations of social justice and peace activists, journalists and athletes.
"I doubt any of us will ever forget how Muhammad Ali made us feel," said legendary sportscaster Bryant Gumbel, who delivered one of the eulogies. "I'm talking about how he gripped our hearts and our souls and our conscience and made our fights his fights for decades."
The lights in the Louisville arena were dimmed except for those that shown on the stage, where service officiants and clergy sat. They were flanked by green and white floral arrangements.
Ali's Muslim faith, in part, shaped his public persona, particularly in the late 1960s. During this time, the U.S. was at war with Vietnam and Ali eligible for the draft. But officials would not grant Ali a dispensation from the draft, given his status as a conscientious objector to the war. Boxing officials stripped him of his world title and barred him during three of his prime years.
The stand he took, at great professional cost, endeared him to hundreds of thousands of people around the world, said comedian Billy Crystal, a close friend of Ali's, known for his impressions of the boxer. "He was so much more than a fighter," Crystal said. "There were millions of young men my age eligible for the draft, but it was Ali who stood up for us, by standing up for himself." 
Ali and his family have reportedly been planning his funeral for 10 years, according to Reuters. One of Ali's requests was that his public memorial service include representatives from multiple faiths — Islam, Christianity, Buddhism and Mormonism.
While some clergymen and women offered prayers for Ali and those mourning him, others saluted his sense of pride in his culture. "Before James Brown said 'I'm black and I'm proud,' Muhammad Ali said 'I'm black and I'm pretty,'" said St. Stephen Church pastor Kevin Cosby, who had remarks during the service. 
Attallah Shabazz, Malcolm X's daughter, told service attendees that her dad loved Ali as "a little brother, 16 years his junior." Despite some political division between the two men in the 1960s, they cherished their ability to discuss how to make a difference in others lives, Shabazz said. 
Free tickets to the service were gone within an hour after they became available to the public earlier this week, according to ESPN. Hundreds of people lined up Wednesday morning at KFC Yum! Center to claim the 15,000 available tickets. Some mourners expressed anger that tickets were being scalped by opportunists at online vendors.
Ali died from complications of Parkinson's disease in a Phoenix-area hospital. Born Cassius Marcellus Clay Jr. on January 17, 1942, in Louisville, Ali grew up in the segregated South and experienced racial prejudice firsthand.
Clinton said it was smarts and wisdom that allowed the boxer to overcome obstacles of racism, public scrutiny and life-altering disease.
"My enduring image of him is like a little reel in three shots," Clinton said. "The boxer I thrilled to as a boy, the man I watched take the last steps to light the Olympic flame when I was president, and the children whose lives he touched."