Supermodel Stephanie Seymour Just Threw Some Epic Shade at Kendall Jenner and Gigi Hadid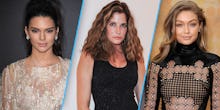 The new era of women walking on high fashion runways and appearing in editorial campaigns have been dubbed "social media savvy models" and "connected supermodels."
But, former runway favorite Stephanie Seymour believes that current fashion favorites, specifically Kendall Jenner and Gigi Hadid, deserve the title "bitches of the moment" as opposed to "supermodel."
"They are completely different than we were," Seymour, who was one of the more popular models in the '90s and appeared on the pages of Vogue and Sports Illustrated, told Vanity Fair on Thursday. "Supermodels are sort of the thing of the past. They deserve their own title. [Kendall and Gigi] are beautiful girls, and I support all of them, but they need their own title."
Seymour is not the only celeb that believes the new crop of ladies need a name change. Rebecca Romijn, who, before X-Men and The Librarians, was walking for Victoria's Secret and posing for Sports Illustrated, candidly voiced her disdain for Jenner and Hadid back in April.
"No one has proven yet that numbers of followers translates to revenue," she told Entertainment Tonight. "So it is frustrating. I know a lot of people — legitimate fashion people — can't stand it. Hate it that these, you know, social media stars are now the supermodels in fashion."
She continued, explaining how these "social media stars" are not true supermodels.
"I have always looked to Vogue magazine to lead the way, not be a follower," she said. "I rely on Vogue fashion always does."
Seymour and Romijn are not totally wrong. The term supermodel does not carry the same heft today as it did during the mid-'90s, when models including Cindy Crawford, Naomi Campbell, Christy Turlington, Linda Evangelista and Claudia Schiffer appeared on runways and on magazine covers all over the world. These days, that space is shared, if not bombarded by, celebrities — many of whom, like Jenner, use their celeb status to parlay a career as a model.
So, Seymour is right; they are completely different. But isn't there plenty of room within the fashion industry for both the OG supermodels and current social media-branded stars?
"They are absolutely representative of the global social-media movement that we are living in," designer Zac Posen told Vanity Fair when also asked to weigh in on the subject. "I think they work very hard and are concentrated and driven. So I think they are pretty big super stars."
Jenner and Hadid might not be following the exact same career path of Seymour, Campbell and Crawford, but they are shaping a new generation of the supermodel — like it or not.
Read more: