Queer Muslims Tell the World "We Exist" After Orlando Shooting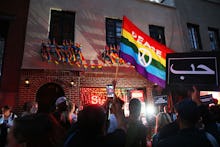 In the aftermath of the deadliest mass shooting in modern American history that left 50 people dead and 43 wounded at a gay nightclub in Orlando, Florida, Muslim Americans aren't just declaring their existence, but powerfully speaking out about gun violence.
In particular, queer Muslims have spoken out from their unique place at the intersection of two identities that advocates fear will be pitted against one another. Samra Habib, the artist behind the photo project Just Me and Allah, wrote a powerful op-ed in the Guardian about being queer and Muslim in this moment. 
"We are now used to the fact that, every time a criminally misguided Muslim commits an act of violence, the entire religion and all its followers are questioned and placed under suspicion in a way that isn't replicated with other faiths," Habib wrote. "We — and this of course includes queer Muslims — have to take extra care walking down the street at night and entering our mosques for fear of Islamophobic attacks."
Muslim American leaders immediately took to cable news and social media to denounce the attack in an effort to counteract the Islamophobic comments that routinely follow terrorist violence (by comparison, zero gun manufacturers have commented about the shooting).
"Homophobia and Islamophobia are interconnected systems of oppression and we cannot dismantle one without dismantling the others," Nihad Awad of the Council on American-Islamic Relations, told reporters on Sunday at a press conference. 
Faisal Alam of the Muslim Alliance for Sexual and Gender Diversity told MSNBC's Brian Williams, "It's important to remember that ... Islam is not a monolithic religion, neither is Christianity or Judaism."
One person put it very simply at Seattle's vigil for Orlando on Sunday:
Like the rest of the world, Muslims within LGBTQ communities are in mourning, too.