Cosmetics Company BareMinerals Called Out for Making Darker Skin Tones an "Afterthought"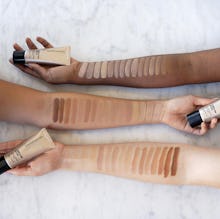 Beauty brand bareMinerals is hoping to cater to all skin tones by expanding the product line of its Complexion Rescue product. Sounds great, no? 
That wasn't the reaction from many after Sephora, which sells the product, showed off just how inclusive the shades were in an Instagram of all of the swatches posted Sunday. 
As many people have since pointed out in the image's comment section, having a shade or two that match darker skin tones does not mean the product caters to a diverse group of customers. 
"Hardly any shades for darker skin tones. Smh," "This line needs more variation at the deeper end of the spectrum" and "I love y'all but what's with this 50 shades of beige crap going on here? The only shade that works on the black model is the last one," are just some of the responses on the post. 
This tinted gel cream, which initially launched in 2015 with just 10 shades, recently released six more and boasts on its website, "now in more shades for every skin tone." While it's a positive step, it's not likely that 16 shades would be able to represent "every skin tone." (Mic reached out to bareMinerals for more information.)
Though this isn't the only beauty brand that lacks a wide range of products for darker skin tones, many have launched their own companies, blogs and beauty boxes in order to combat this. Brands blackUp, Iman cosmetics and Black Opal, along with beauty boxes by Cocotique and Essence, are just some of the companies successfully catering to a wide assortment of people.
Additionally, some mainstream cosmetic giants are attempting to be more inclusive. In February, Kerry Washington helped Neutrogena expand its foundation shades. A month later, CoverGirl announced an Empire-inspired collection.
In a market inundated with products catering to light-skinned women, at least there are some companies — with hopefully more in the future — realizing that women of all colors wear makeup and would prefer to have colors that blend with their unique skin tones, as opposed to the one token dark shade.
As one commenter said: "[The brands] don't see us as an important factor when they create these products. Black women are an afterthought to most white-owned cosmetic companies."
Read more: