Here's the Truth About Whether Orlando Shooting Was Terrorism or a Hate Crime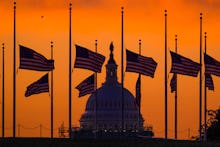 One day after a gunman stormed a gay nightclub in Florida, killing and injuring dozens of people early Sunday, law enforcement agencies and government leaders struggled to define the unprecedented act.
Did Omar Mateen — the 29-year-old Fort Pierce, Florida, security guard who authorities identified as the culprit — kill at least 49 people and wound 53 others at Pulse nightclub in Orlando because of his professed ties to Islamic State militants? Or was the act motivated by his reported hatred of gay people?
Read more: Orlando Mass Shooting at Pulse Gay Nightclub Leaves at Least 50 Dead, 53 Wounded
It could be both, terrorism and hate crime experts said Monday. The distinction affects the way federal officials conduct their investigation, but isn't likely to change the way the public perceives an act that undoubtedly inflicted pain, fear and suffering in so many.
"Political leaders and the media are trying to work out in real time how they are going to label this incident," Jason Marsden, executive director of the Matthew Shepard Foundation, the organization founded in honor of a Wyoming man killed because of his sexual orientation in the late 1990s, said in a phone interview. "This case presents what looks like something that might be both at the same time."
Authorities said Mateen entered Pulse nightclub with the intent of causing mass casualties, inspired by extremist Islamic ideology. He reportedly pledged allegiance to ISIS, mentioning the 2013 Boston Marathon attacks in a 911 call to police before he carried out the shootings. On Monday, President Barack Obama said the attack appeared to have been a case of homegrown extremism and was not directed by ISIS overseas.
The man's father, however, has disputed that the attack was about religion. Rather, the father told media outlets, Mateen harbored anti-LGBT views and may have chosen the location of the attack based on those feelings.
Definition of domestic terrorism
Acts of domestic terror are different from crimes motivated by bias against a specific group because terrorists are less concerned about who is killed than about what message is sent. As for the number of domestic terror attacks in the U.S., twice as many people have been killed by white supremacists, anti-government fanatics and other non-Muslim extremists than by radical Islamic terrorists since the Sept. 11 attacks in 2001, according to a tally by New America, a research center in Washington, D.C. 
Here's how the FBI defines an act of domestic terror:
"Domestic terrorism" means activities with the following three characteristics: involve acts dangerous to human life that violate federal or state law; appear intended (i) to intimidate or coerce a civilian population; (ii) to influence the policy of a government by intimidation or coercion; or (iii) to affect the conduct of a government by mass destruction, assassination or kidnapping; and occur primarily within the territorial jurisdiction of the U.S.
"This kind of violence generally is intended against civilians to make a larger point to the government," Joseph Young, associate professor at School of International Studies and School of Public Affairs at American University in Washington, D.C, said in a phone interview. He said the murders of abortion doctors in the 1990s are a prime example of domestic terror. "They were killing doctors in order to change that policy."
Definition of hate crimes
More than 20% of hate crimes reported to the FBI in 2014 were directed at people who were lesbian, gay, bisexual and transgender. But the bar for reaching the legal definition of a hate crime can be high when there are other motivations at play, hate watchdog groups have said.
Here's how the U.S. Department of Justice defines a crime motivated by hatred:
Hate crime is the violence of intolerance and bigotry, intended to hurt and intimidate someone because of their race, ethnicity, national origin, religious, sexual orientation, or disability. The purveyors of hate use explosives, arson, weapons, vandalism, physical violence, and verbal threats of violence to instill fear in their victims, leaving them vulnerable to more attacks and feeling alienated, helpless, suspicious and fearful.
"Sometimes officials make very strange calls when it comes to hate crimes," Mark Potok, a senior fellow at the Southern Poverty Law Center in Alabama, said in a phone interview. 
"The reality is that most people's motives are very mixed up," he added of the Orlando attack. "We'll learn less about his motivation than we might have if he had survived the shooting."
In the end, the distinction between domestic terrorism and hate crimes is "inside baseball" for most people watching the developments unfold, Marsden said. "This appears to be an obvious hate crime — millions of gay people and their allies sure as hell absorbed the impact of a hate crime yesterday."