Here's How Much More Women Have to Pay to Be on 'The Bachelor' Franchise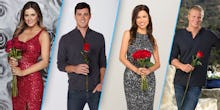 Agreeing to be a contestant on ABC's The Bachelorette or The Bachelor might seem like an easy commitment. All you have to do is throw some of your belongings in a suitcase, fly to Los Angeles and go on a number of dates — maybe even find love. Easy peasy, right? Wrong.
Besides having to compete for the someone's attention with 25 other people, as well as having every one of your interactions broadcasted on television — including but not limited to eating a whole sweet potato — both the ladies and the competing on The Bachelor have to dish out a hefty sum of cash prior to arriving to the California mansion, as Mic previously reported in January.
Take Olivia Caridi for example: the 23-year-old news anchor who competed for Ben Higgins' heart on the 20th season of The Bachelor. She supposedly spent "like, 40,000 on clothes" and also became known as the girl left on an island.
But, what about the dudes who are trying to find love on The Bachelorette? Are they spending just as much as the women even though they don't need a sparkly, cut-out dress for every single rose ceremony? Can't they just simply throw on the same suit each week? 
As it turns out, they too often have to drop some cash — although, not nearly as much.
The men require less clothing than women: Contestants need outfits for ten weeks of rose ceremonies in addition to dates that can range from a casual day usually involving a hot tub to a romantic dinner followed by a private concert.
"[Packing] is one of the hardest things to do!" Higgins said in an interview. "I had a bunch of people over to my house to help me pack and pick out clothes."
While the ladies, need around ten dresses (unless they plan on swapping) men are told to only bring 2-3 suits with "a few different shirts, and ties so that they could be mixed and matched" Joshua Albers, who vied for Kaitlyn Bristowe's heart along with Higgins on Season 11, said in an interview. 
Men aren't completely off the financial hook. In an exclusive promo obtained by Glamour, of the dudes packing for the current season airing on ABC, Chad Johnson, a luxury real estate agent who was eliminated week four, explains how he "probably overdid things a little bit," adding, "I spent like seven grand on clothes just for this." 
As seen in the video, as long as it fits into their allotted two suitcases, the men can bring as many as they want. "I think I have like six suits," Christian Bishop, a telecom consultant who was eliminated at week three said in the video. "I was only told to bring two."
Albers did, in fact, bring two suits, along with three shirts and three ties. He estimates that he spent about $1,000 for the suits, including having them tailored. 
Others, like Higgins, simply recycled the pieces that they brought. "I always re-wore suits to the rose ceremonies," he said. "If I didn't re-wear a whole suit I would switch up the jacket with pants or maybe go jacket-less. The guys often share suits as well if they are the same size." 
"I think [buying a new wardrobe] is a personal preference," he adds. "I bought a new suit and also purchased some new T-shirt, dress shirts, etc. But, I didn't go overboard at all. I do know that someone spent $4,000 on clothes though." 
But the ladies are still dropping more cash. "Women's gowns are far more than a guys suit," Albers said. "A lot of the guys have to wear suits for their career already, so they didn't have to buy much of anything unless they wanted. I'm a welder, so I had nothing remotely close to what's required for a rose ceremony."
But it's not just clothing that women are spending more on. Prior to the show, many women get extensions, acrylics and spray tans, while the guys often focus on their hair. 
Although the women have to buy more, many are in fact gifted clothing prior to the show for publicity. Additionally, The Bachelor has become a launching point for the ladies' careers, specifically in the fashion world. Back in May, Bristowe released a clothing line, while Dorfman designed a T-shirt with Southward Apparel back in September. Besides clothing collections, Bristowe, Harris and Hartstock are just some of the previous bachelorettes to have since launched style related blogs.  
How much do the clothes even matter? As much as you might not want to believe it, people do judge books by their covers. 
"Clothing is absolutely a factor [for attraction] for it changes the appearance of a person [and] influences the impression of what one thinks about another," Dr. Karen Ruskin, a marriage and family therapist, explained in an interview. "The fact is, visual is the first thing we 'see' before we experience anything else. Certain colors affect one's experience of the person (e.g., light blue is warm and inviting to have a dialogue, red represents power, whether the outfit is tight fitting to the body or loose fitting can invite thoughts of sexuality vs. relaxing laid back, etc.)" 
It might be a factor, but that doesn't mean it affects the outcomes of the shows. "The funny thing is, Ben [Higgins] and all of the other guys don't give a sh*t!!! I bet you they don't even notice a difference," Jillian Harris, the lead of season 5 of The Bachelorette, previously wrote on her website. (You're saying Lauren B.'s Cinderella-like dress didn't leave a lasting impression?!) 
"I mean its the look good, feel good, date good kinda thing right?" Higgins said. "I do think clothes help a person look better and feel better so in that since they may be more confident going on dates or being themselves."
So, will The Bachelor or the The Bachelorette cost an arm and a leg? Yes, likely so. But chances are you'll find love or, at least, people will be talking about you on Twitter on Monday nights until the next season comes around and you're forgotten about. 
Plus, you get a gift bag. And who doesn't love a gift bag?
Read more: