A Gay Couple That Wanted to Get Married Will Have A Joint Funeral After Pulse Shooting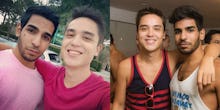 Christopher "Drew" Leinonen and Juan Ramon Guerrero lived together, vacationed with each other and shared a vibrant group of friends. They were planning on getting married one day, and were absolute soul mates according to their families. 
Instead of a wedding, though, the couple will share a joint funeral after they were killed in the Orlando, Florida, massacre at the Pulse gay nightclub early Sunday morning.
"They were honestly so in love," Guerrero's sister, Aryam Guerrero, told Time. "They were soul mates. You can tell by how they looked at each other. It's a little comforting that they died together. If it's not a funeral, they were going to have a wedding together."
The couple was spending the weekend at Orlando's DoubleTree hotel with their friends. Both Leinonen's Instagram, which shows snaps and videos from their weekend, and Guerrero's account have been flooded with tributes.
Leinonen's mother, Christine Leinonen, said in an on-air interview with ABC News that a friend of the couple, who was inside the club at the time of the shooting, told her he had seen Guerrero being pulled out on a gurney, but her son's fate remained unknown throughout Sunday morning. Christine described her experience waiting for news and made an emotional plea to end gun violence.
"This is a club that nobody wants to be in," she said on ABC News, through tears. "Please can we do something with the assault weapons so that we can stop this club from ever getting any new members. I beg all of you, please. ... Please, let's all just get along, we're on this earth for such a short time. Let's try to get rid of the hatred and the violence."
The couple had been together for two years and Guerrero was just a few days shy of his 23rd birthday. "My wife will cook all the food he likes," his father, whose name is also Juan Ramon, told Time. "He was a beautiful kid, a hard worker, friendly, sweet person ... I lost part of my life."
The idea of a joint funeral was originally Christine Leinonen's, according to Time, but Guerrero's father agreed it's the best way to lay the two to rest. "I think my son wanted to do that," he told Time. "That's why I don't care what the people think. I don't care."
Read more: