ESPN's New OJ Simpson Documentary Shows How He Shunned His Blackness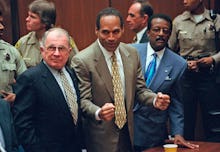 Orenthal James "O.J." Simpson is a well-known figure. But no matter how much Americans have heard about the once-beloved football Hall of Famer — whether they believe he did or did not murder ex-wife Nicole Brown Simpson and Ron Goldman in 1994 — the creators of a new ESPN documentary, "O.J.: Made in America," have shown there's much more to learn. 
On Tuesday, the Disney/ABC-owned cable channel began streaming a five-part, seven-hour documentary about the rise and fall of the sports icon. Instead of simply rehashing his infamous murder trial and acquittal, director Ezra Edelman unpacks O.J.'s story through the lens of race in America.
O.J. came to symbolize racial animus in the U.S., in part because of the Los Angeles Police Department's unlawful, discriminatory practices during the murder investigation and prosecution. The jubilation with which the black community greeted the news of O.J.'s acquittal, and the befuddlement among whites at both the verdict and the black community's reaction, spoke to the divide in how blacks and whites viewed the American justice system. 
O.J. didn't deserve to be championed by the black community. Rather than embrace African-Americans in times of crisis, he expressed indifference about black civil rights and social justice. Confronted with racial flashpoints over three decades documented in the film, O.J. deflected questions about racial inequality. The documentary shows he relished in being seen by whites as different than other African-American men. Sociologists have termed that phenomenon — race or ethnicity playing no role in how the larger, majority society views an individual who is not white — "racial transcendence." O.J. was the anti-Muhammad Ali, if you will.
Here are a few examples of how O.J. shunned his own racial identity:
He skipped an opportunity to organize with top black athletes after the Olympic Committee banned black sprinters Tommie Smith and John Carlos from participating in the games.
In 1968, O.J. was the star running back for the Trojans at the University of Southern California in Los Angeles. Just before he received the Heisman Trophy that year, a group of top black American athletes organized a protest in support of Smith and Carlos, who had been ousted from the Olympics for raising leather-gloved fists during a medaling ceremony. The raised fist came to symbolize the Black Power movement of the '60s and '70s, and was seen by some as offensive and anti-government.
A friend encouraged Simpson to participate in the protest. "I'm not black. I'm O.J.," he replied, according to the friend interviewed in the ESPN documentary.
He had nothing to say after LAPD officers were acquitted in the Rodney King case. 
In interviews with reporters, O.J. showed indifference the Rodney King verdict in 1992. King's beating by several Los Angeles Police Department officers, which had been videotaped by an amateur cameraman, sparked widespread calls for justice that went unanswered. The all-white jury that heard the case outside of L.A. acquitted the officers, sparking riots in the inner city.
Still, O.J. remained silent, in contrast to other black celebrities who spoke out after the verdict, including soul music icon James Brown.
He delighted in white acceptance and disparaged other blacks.
O.J. was the first African-American athlete to transition to corporate spokesman, becoming the face of Hertz rental car service in 1978. He also began acting in the late 1970s, first appearing on the hit TV miniseries "Roots." 
Socially, O.J. had plenty of African-American friendships — many of them having formed during childhood and carried on through his super stardom as an adult. But O.J. delighted in the idea that his white friends, business associates and fans saw him differently than "less couth" blacks.
In one part of the ESPN documentary, New York Times journalist Robert Lipsyte recounted his interview with O.J., in which the pair discussed racial identity:
"He overheard a white woman at the next table saying, 'Look, there's O.J. sitting with all those n****rs,'" Lipsyte told ESPN.  "I remember in my naive day, saying to O.J., 'Gee, wow, that must have been terrible for you.' And he said, 'No, it was great. Don't you understand? She knew that I wasn't black. She saw me as O.J.'"
All five parts of "O.J.: Made In America" are available online and on mobile devices through WatchESPN, the Los Angeles Times reported. On cable, ESPN airs the second part of documentary Tuesday. Parts three, four and five rescheduled to air Wednesday, Friday and Saturday, respectively.