How Mindy Kaling Is Using Her Bright-Colored Outfits to Inspire Women of All Sizes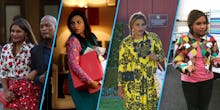 Mindy Lahiri, the main character portrayed by Mindy Kaling on Hulu's The Mindy Project, is a colorfully-dressed breath of fresh air in a sea of stained scrubs, like those on Grey's Anatomy, or dull suits seen on The Good Wife. 
Besides Kimmy Gibbler on the reboot of Full House or the title character on Netflix's Unbreakable Kimmy Schmidt, it's not often that characters on TV are dressed in bright shades and patterns, and it's that reason, along with her tell-it-like-it-is personality, that many find Lahiri so relatable. 
But for Kaling — and the show's costume designer Salvador Perez — her wardrobe is also a way to inspire women of all different shapes and sizes. 
"Part of Sal's genius... is he puts me in clothes that you just don't see a woman on TV who's not a size zero wear," the actress told Fashionista at the Mindy Project Style fashion show and Q&A in Los Angeles on Saturday. "You know, I am wearing strapless dresses and things, because in any other show or movie, they would put me in a long-sleeve shift because they just don't want to deal with [my body]."
"I think stylists often make safe choices," Perez explained in an interview. "The easy trick to make someone look slimmer is to put them in dark colors, but bold colors can look great on anyone as long as the clothes are fit properly. And color is so much more fun to wear."
Kaling hopes that colorful outfits Perez dresses her in encourage other "women who aren't sticks" to wear similar pieces. "Often [women] don't like their bodies or they don't want to be looked at," she said. "The show is such a celebration of women who aren't waifs." 
Kaling said she especially enjoys working with Perez because she hasn't always had the best experiences with stylists. 
"I'll just say it: it's easy to dress a woman who is a sample size," she told Fashionista. "Fashion labels don't always make dressing me easy, but I still think I'm the best dressed character on TV." 
"I am told the average American woman is a size 14 and you rarely even find a size 12 in most high-end stores, so I don't know where these women shop who want to be fashionable," Perez added. "Once you get to a size 14 or 16, bodies aren't so average; some women are busty or some have fuller hips, so sizing varies and manufacturers find it hard to cover all sizes."
Kaling is just one of a slew of celebrities that have recently called out the fashion industry's lack of inclusion of curvier women. In an interview with Harper's Bazaar published on Tuesday, Khloé Kardashian explained how before she had lost weight, some stylists refused to work with her. 
And a few months back, Orange Is the New Black and recent Tony-nominee Danielle Brooks called out how easy it is "to put a [plus-size] woman in [a] black or navy dress" as opposed to colorful alternatives. 
Kaling and Perez are channeling these frustrations into the TV show by showing that women, regardless of size, can be confident and successful sans fashion restrictions. 
And if there's anything that points to the love many have for Lahiri's style, it's the array of blogs dedicated to finding Lahiri's unique clothes, and the demand that led Perez to launch Mindy Project-inspired collections (a jewelry one with BaubleBar and a set of coats with Gilt in 2015.) 
"I just love that people can watch [The Mindy Project] and be inspired; I wish I had someone like my character to watch growing up," she said.  
Read more: