Anonymous Hacker Hijacks Hundreds of ISIS Accounts With a Barrage of LGBTQ Love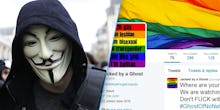 After a man who pledged allegiance to ISIS killed 49 people at a gay nightclub in Orlando, jihadi fighters took to Twitter to send messages of pride, love and solidarity with the LGBTQ community.
Not because they wanted to. Because they had been hacked.
Who did it? The hacker behind the account seizures is WauchulaGhost, a hacker with Anonymous who has been working on anti-ISIS operations since early 2015. Wauchula was an original member of GhostSec, a hacking team that fought to expose jihadi activity on hidden forums and shut down ISIS twitter accounts.
By his count, he's vandalized about 245 accounts belonging to jihadis.
"Twitter saw my list and suspended all but a few," Wauchula said in a private message.
Of course, not all of the vandalism features pride flags and messages of love. Some of the memes Wauchula is using to deface the accounts are the typical anti-Muslim fare Anonymous has used in its propaganda war against ISIS.
But most of the accounts were defaced with LGBTQ-positive messaging. Wauchula's campaign is, after all, retaliation for a massacre against the gay community.
"Innocent lives were lost," Wauchula said. "I thought it was a good tribute to them and also to bring confusion and anger to [the] Islamic State. Fighting fear with love and laughter."