May Is the 8th Consecutive Month to Break Global Temperature Records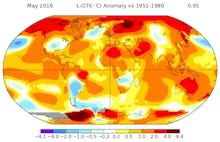 It's looking even more likely that 2016 will be the hottest year on record.
May is the latest in a long line of months to crush a global temperature record, Mashable reported. Temperatures were 1.67 degrees Fahrenheit warmer than the 1951-1980 average for May.
Read more: April Is the 7th Consecutive Month to Break Global Temperature Records
May marks the eighth month in a row that's broken a temperature record, according to NASA. If the National Oceanic and Atmospheric Administration confirms the temperature, then this will be the 13th month in a row that's broken a record by their account. (NASA and NOAA use the same temperature data but analyze it in different ways.)
Experts are worried: "The state of the climate so far this year gives us much cause for alarm," David Carlson, director of the World Climate Research Program, said in a statement. "Exceptionally high temperatures. Ice melt rates in March and May that we don't normally see until July. Once-in-a-generation rainfall events. The super El Niño is only partly to blame. Abnormal is the new normal."
The El Niño weather event creates a warming effect, while its counterpart, La Niña, creates a cooling effect. But the unusually strong El Niño this year isn't fully responsible for the high temperatures. "In fact, La Niña years now are hotter than El Niño years of several decades ago," according to Climate Central.
The bigger problem behind the abnormally high temperatures? Climate change. World leaders are racing to stop the average global temperature from rising more than 2 degrees Celsius over pre-Industrial temperatures. 
Scientists warn that if we don't, it might be too late to reverse some of climate change's harmful effects on the planet.